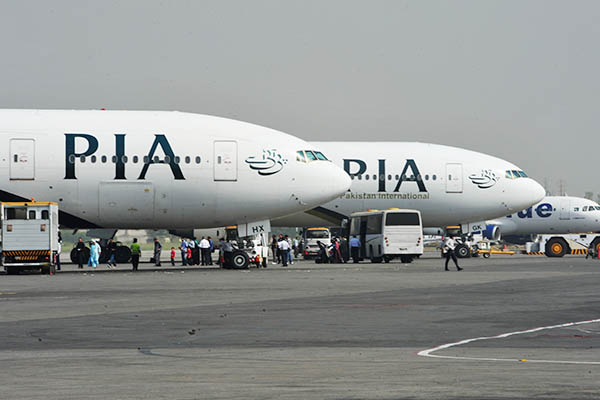 ---
ISLAMABAD:
State Minister for Parliamentary Affairs Ali Muhammad Khan on Wednesday informed the Senate that Pakistan International Airlines (PIA) operated special flights for the repatriation of stranded Pakistanis from across the globe in the wake of Covid-19 pandemic.
Responding to a query during the question hour session, he said PIA rationalised fares to provide relief to travellers and cheap fares were now available.
To another question by Senator Mushtaq Ahmed about an increase in PIA's fares, the minister said that in order to maintain social distancing during the pandemic, Pakistan Civil Aviation Authority (CAA) had also imposed restrictions due to which cost of operation was to be met.
In this regard, the aircraft operating with 300 plus seats was permitted to carry 250 passengers likewise the aircraft having a capacity of 170 was allowed to carry 140 passengers, he added.
Ali Muhammad Khan said, therefore, in order to offset the impact of this cost, some fares were increased by PIA. He said that the safe return of stranded Pakistanis was the top most priority of PIA's Covid-19 repatriation operation. However, some fare increase was unavoidable due to the given circumstances, he maintained.
"PIA remains committed to playing its part in serving Pakistanis across the globe," he said, adding that as per directives of Prime Minister Imran Khan, repatriation operations were launched by PIA to many countries including UAE.
However, due to restrictions imposed by the UAE government, outbound passengers were not allowed on any flights operating to UAE, he added.
Meanwhile, Adviser to the Prime Minister on Parliamentary Affairs Dr Babar Awan Wednesday informed the Senate that the government was taking measures to expand the coverage of cellular services to the uncovered areas of the country and assist the people in far-flung areas.
Responding to a question during, he said that 3,000 new sites had been identified for the installation of towers to provide better and improved cellular service.Responding to another question he said, that 4G services had been provided in all seven tehsils of Tharparkar district including Mithi, Islamkot, Chachro, Dihly, Diplo, Kaloi and Nagarparkar.
The adviser said the facility of cellular network (2G/3G/4G) services had been provided in all tehsils of Tharparkar district. Universal Service Fund (USF) awarded a contract to Telenor in 2009 to extend the then prevalent 2G (voice and data) cellular services to the unserved mauzas in the districts of Tharparkar.
After issuance of 3G/4G licenses, USF NG-BSD Tharparkar Lot targets provision of voice and high speed mobile broadband internet (3G) services in the unserved and mobile broadband internet services in the underserved areas of Tharparkar district, he added.
Awan said, contract for USF's Tharparkar Lot was awarded to M/s Telenor Pakistan, in December 2019 and Telenor will be upgrading some of its sites to offer 4G services and the project will be completed within 18 months.
Till date, he said, 25% implementation had been completed and USF had provided coverage to39 mauzas in Tharparkar district.