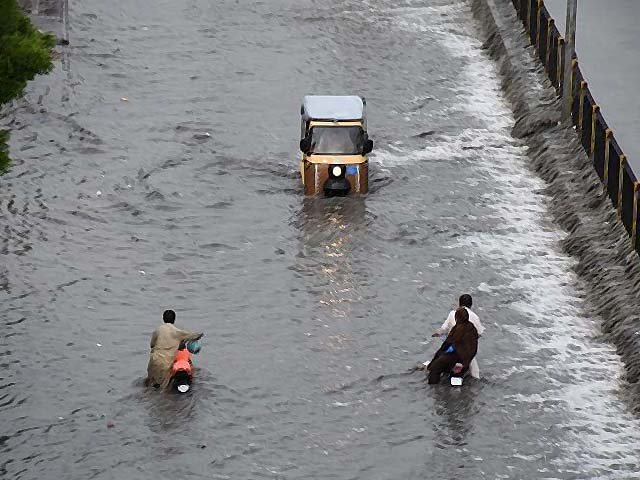 ---
KARACHI:
Though the current monsoon spell was nothing out of the blue for Karachi, the city was once again caught unprepared for the usual rain-induced chaos on Friday evening.
As evening approached, clouds darkened the city's sky and winds picked up speed, turning the weather pleasant for a while before taking the metropolis by storm.
Light showers soon turned into a torrential downpour, leaving in its wake death, destruction, and mayhem once again.
Deaths
The deaths of at least four persons, including two teenage boys, and two animals were reported in rain-related tragedies until the filing of this report.
Sultan Karim and Shahnawaz Rashid, both 16 years old, were killed after they were struck by lightning while working at a farmhouse on Damloti Road. According to police, they were residents of a nearby goth. The bodies were handed over to the family after the completion of medico-legal formalities.
Separately, Saifullah Javed, 20, was electrocuted to death while switching on a water pumping motor in Machhar Colony. The body was shifted to Dr Ruth Pfau Civil Hospital.
In Mominabad, 20-year-old Naveed, too, was electrocuted to death. The body was taken to Abbasi Shaheed Hospital, but the family collected it without letting authorities complete medico-legal formalities.
Meanwhile, a donkey and a dog were electrocuted to death on Shah Abdul Bhittai Road in Kalri.
Water, water everywhere
The downpour did not spare the port city's infrastructure either, flooding many roads, streets and houses.
While neighbourhoods near Sakhi Hassan Chowrangi, Korangi Expressway, University Road and Sharae Pakistan, Baldia Town, Surjani Town, Shah Faisal Town, old city areas, Liaquatabad, Nazimabad, PIB Colony, Gulshan-e-Iqbal, Gulsitan-e-Johar and New Karachi faced an urban-flooding-like situation, the residents of Central district, areas in the vicinity of KDA, Power House, Nagin Chowrangi, Shadman Town and Orangi Town helplessly watched rainwater surging into buildings and houses.
Water up to several feet accumulated in the streets and pooled around the houses in the said areas.
Besides, people living by Gujjar nullah - on of the major stormwater drains in Karachi, and one of the three cleaned by the National Disaster Management Authority recently - Orangi nullah and Mianwali nullah were forced to deal with the drains overflowing once again.
The rain spell
The latest rain spell, accompanied with gales and lightning, was the fifth one the city witnessed this monsoon season.
As the downpour continued to batter various areas of Karachi, Surjani Town received the lion's share of rain, recorded at 170mm. In the meantime, 88mm was recorded in New Karachi, 85.6mm in Nazimabad, 77mm in Gulshan-e-Hadeed, 44.5mm at PAF Masroor Base, 28.5mm in Saadi Town, 20.5mm in Landhi, 14mm at Faisal Base and 6.7mm at Jinnah International Airport.
The aggregate rainfall far exceeded the amount predicted by the Pakistan Meteorological Department (PMD) - a mere 30mm - during the current spell, expected to end on Sunday.
The maximum temperature on the day was recorded at 37.7 degrees Celsius and minimum at 29 degrees Celsius.
According to PMD director Abdul Qayyum Bhutto, the rain was caused by a low air-pressure system, travelling from the Bay of Bengal near Rajasthan and entering Sindh on Friday.
Monsoon claims more lives in Tharparkar
Another spell of monsoon rains lashed Hyderabad, Mirpurkhas, Nawabshah, Tharparkar and Jamshoro and other districts of Sindh on Friday, with lightning strikes killing at least four persons in Tharparkar. Dozens of animals also reportedly perished in Tharparkar and Jamshoro.
Panju Mal and his five-year-old son Chatru Mal were struck by lightning in Dauri village, Mithi taluka, while Taro Bheel and eight-year-old Usman Rahimo died in two villages of Chhachro and Dahili talukas. Dozens of livestock animals were also reported dead due to lightning strikes in several villages of Tharparkar, while 10 goats perished in Thana Bula Khan, Jamshoro district.
The Pakistan Meteorological Department recorded 27 millimetres of rain in Badin, 23mm in Thatta, 22mm in Tharparkar, 10mm in Tandojam, Hyderabad, and 9mm in Dadu district by 6pm. However, the rain continued through the night. The Met Office has forecast a four-day spell of intermittent rain, mostly in the southern parts of Sindh.
In Badin, the road connecting the district to Karachi was submerged at several points, while low-lying areas in Badin, Thatta, Dadu and Matiari were partially flooded too. Furthermore, it also rained over the Kachho belt along the Kirthar mountain range in Dadu district, where over 100 villages in Johi taluka were inundated during the last monsoon spell.
Meanwhile, the Hyderabad Electric Supply Company (HESCO) carried out electricity suspension on a massive scale. According to HESCO spokesperson Sadiq Kubar, the power supply to 190 feeders out of over 500 providing electricity to parts of Hyderabad, Nawabshah, Mirpurkhas. Sanghar. Umerkot, Tharparkar, Tando Muhammed Khan, Thatta and Matiari districts had been suspended, mostly for safety purposes.
The outages began early in the afternoon and even six hours later, the restoration had barely begun.r