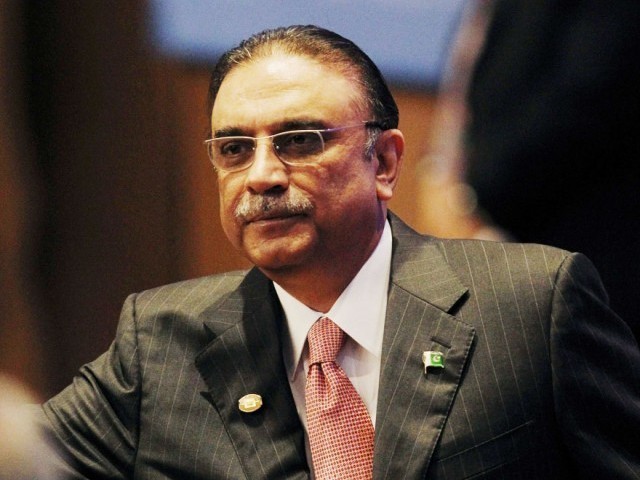 ---
ISLAMABAD:
An accountability court on Friday dismissed former president Asif Ali Zardari's plea against National Accountability Bureau's (NAB) jurisdiction in the Park Lane reference and decided to indict him on August 10 (Monday).
During the proceedings, NAB deputy prosecutor general said that Asif Zardari could not withdraw the petition after all the arguments were completed.
"The accused was deliberately using delaying tactics," said NAB's prosecutor seeking an indictment. "After postponing the case for a month, the accused is withdrawing the petition today."
Zardari's counsel, Farooq H Naek, earlier prayed before the court that the Park Lane reference doesn't fall under the jurisdiction of NAB as it is a case of 'financial law'.
On July 21, the prosecutor for the NAB made his arguments in the accountability court in the Park Lane reference against Zardari after his defence lawyer challenged the court's jurisdiction in the matter.
The proceedings focused on an application of defence lawyer Naek for halting the Park Lane reference against Zardari.
NAB Deputy Prosecutor General Sardar Muzaffar Abbasi objected to the petitions, saying that when the court had decided to frame charges, the application for halting the proceedings could not be filed.
Naek also filed another application, asking the court to determine whether the case fell under its jurisdiction. This led to heated arguments between Abbasi and Naek.
However, the judge intervened, admonishing both sides not to "shout at each other". The judge remarked that he would not allow anyone to shout in the court. He also asked both sides not to make the courtroom a political arena.
The judge then addressed Naek, saying that he had promised to complete the arguments on his first application and then he would decide on the jurisdiction of the court at the same time. Naek initiated arguments regarding the court's jurisdiction on the matter.
The Park Lane case is being investigated under different sections of the National Accountability Ordinance (NAO) 1999, and the Anti-Money Laundering Act, 2010, over Zardari's alleged involvement in extending loan and its misappropriation by Parthenon Private Limited.
To determine the jurisdiction, Naek asked the court to see whether the NAB law or the Financial Recovery Act applied to the case. He said that neither his client obtained any loan nor did he have anything to do with the Parthenon Limited.
Naek apprised the court that the NAB reference had not directly accused his client of taking loan and then defaulting on it, therefore, it could not be NAB's jurisdiction until the State Bank of Pakistan (SBP) issued a notice to the defaulter. Naek added that no SBP notice was served to Parthenon, Zardari or the Park Lane Company.