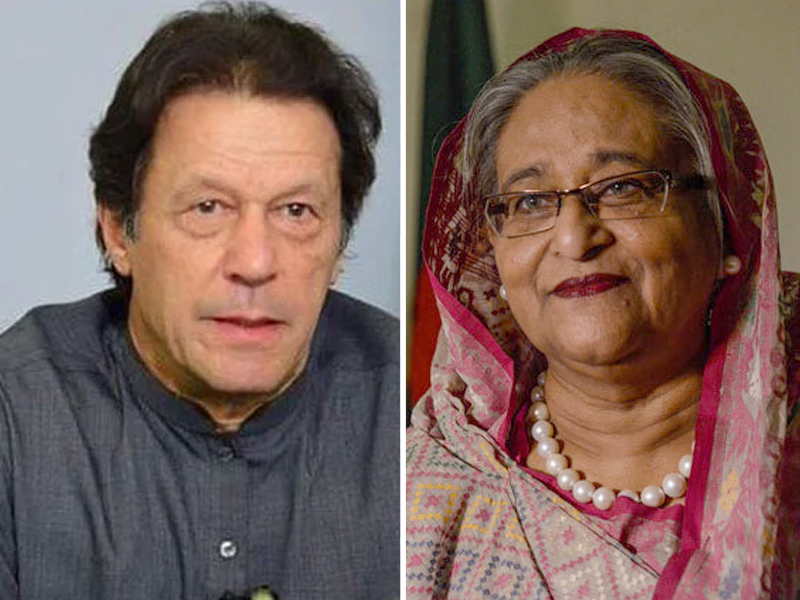 ---
ISLAMABAD:
The prime ministers of Pakistan and Bangladesh held a telephonic conversation on Wednesday in a rare occurrence of diplomacy as the two estranged countries seek rapprochement.
"Pakistan is committed to deepening fraternal relations with Bangladesh on the basis of mutual trust, mutual respect and sovereign equality," said PM Imran Khan, according to a statement issued by his office.
The premier reiterated his invitation to Sheikh Hasina to visit Pakistan.
He extended condolences for the lives lost during the pandemic, and offered his commiserations on the material and human losses due to the recent flooding in Bangladesh and prayed for early recovery of the people affected by this natural calamity.
The two leaders exchanged views on their respective steps to deal with the myriad of challenges posed by Covid-19. Imran apprised of his government's efforts and commended his Bangladesh counterpart on the measures taken by her leadership to contain the virus.
He also apprised her of his 'Global Initiative on Debt Relief' for developing countries.
In the bilateral context, Imran underscored the importance Pakistan attaches to closer ties with fraternal Bangladesh and highlighted the significance of regular bilateral contacts and people-to-people exchanges.
Reaffirming Pakistan's commitment to SAARC, Imran underlined the importance of both countries working for enhanced regional cooperation for sustainable peace and prosperity.
He shared Pakistan's perspective on the grave situation in the Indian-occupied Jammu & Kashmir (IOJ&K) and stressed on the importance of a peaceful resolution of the Jammu and Kashmir dispute for a safe and prosperous region.
Quiet diplomacy
The Express Tribune had recently reported on quiet diplomatic efforts being initiated by the two countries, citing diplomatic sources who revealed that the current regional security environment compelled the two to reset their troubled ties.
Earlier this month, Pakistan's High Commissioner Imran Ahmed Siddiqui held a rare meeting with Bangladesh Foreign Minister AK Abdul Momen in Dhaka. The meeting raised eyebrows in New Delhi, which viewed the development with suspicion.
The Bangladesh government called the meeting a "courtesy call" but sources said it was much more than that. It is believed that Imran-Hasina telephonic conversation on Wednesday (today) was the result of that meeting.
Relations between the two countries have remained tense for the last many years. The two countries have yet to overcome the bitter memories of 1971 that led to the creation of Bangladesh.
What led to the current low in their ties was the decision taken a few years ago by the incumbent government of Shaikh Hasina Wajid to try and execute several leaders of Bangladesh Jamaat-e-Islami on charges of committing war crimes in 1971.
Pakistan was against such, what it called, politically motivated trials. It also accused Dhaka of violating the 1974 trilateral agreement between Pakistan, India and Bangladesh. Under the agreement, all countries including Bangladesh had agreed not to pursue cases against people involved in the 1971 events.
Relationship between the two countries worsened to the extent that Pakistan's National Assembly in 2016 passed a unanimous resolution condemning the execution of JI leaders.
Not just that the Bangladesh government refused to approve the appointment of Pakistani High Commissioner for 20 months. Islamabad eventually had to make the fresh proposal for the appointment of Imran Ahmed Siddiqui as envoy to Dhaka. His name was finally approved by Dhaka in November last year. Siddiqui joined the Pakistani mission in Dhaka in January, raising hopes of a thaw in their ties.
Foreign office sources were cautious about calling the meeting held earlier this month as a "breakthrough" or whether this would lead to breaking the ice.
One of the reasons that foreign office sources were playing down the outreach was to avoid creating unnecessary hype and allowing "spoilers" to undermine such efforts.
Indian media reports expressed alarm over the meeting between Pakistani envoy and Bangladeshi foreign minister, claiming Islamabad was trying to take advantage of India's preoccupation with other issues.
New Delhi and Dhaka have longstanding ties and those relations further deepened when Indian Prime Minister Narendra Modi came to power in May 2014. India has exercised great influence over Bangladesh and took full advantage of PM Shaikh Hasina Wajid's mistrust with Pakistan. But India and Bangladesh ties suffered a major blow when Modi government last year passed a controversial Citizenship Amendment Act (CAA). The law had triggered massive protests in Bangladesh and in March, Modi had to cancel his visit because of growing anti-India sentiments.
In the middle of this, China also made inroads in Bangladesh by offering economic and other partnership. Dhaka is already part of Belt and Road Initiative (BRI).
Recently, Beijing allowed Bangladesh to export goods to China with zero tariffs. Similarly, China has been assisting Bangladesh in dealing with Covid-19 pandemic.
As a result of this cooperation, Bangladesh surprisingly kept quiet over the recent military standoff between India and China.
Dhaka even did not offer condolences to India over the killing of its 20 soldiers, including a colonel, during a bloody fight with China in the high altitude Ladakh region.
Observers believe that the changing dynamics offered a good opportunity for Pakistan and Bangladesh to revisit their troubled ties.