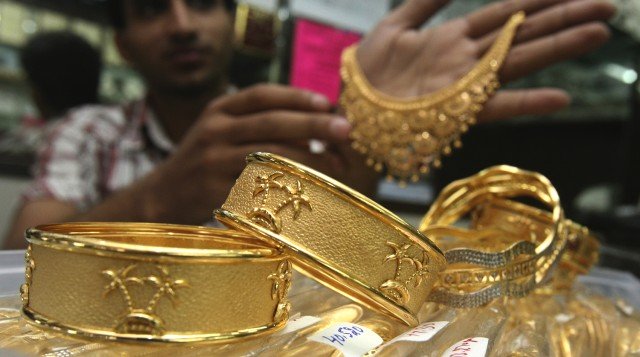 ---
KARACHI: Gold imports into Pakistan have declined to nil, according to the President of All Pakistan Supreme Council of Jewellers Association, Haroon Chand, as high prices and the continuing withholding tax have driven away investors.

He said that while the lack of purchasing power had already restricted investors and customers from buying gold, the one per cent withholding tax on the precious yellow metal has completely halted its imports.

Gold imports had declined to a mere 10 kilogrammes in February 2009 compared to 164 kg in the same month in 2008. However, this year, the figure was zero as no gold was imported in February, Chand said.

The government has imposed a 0.50 per cent import duty on gold along with one per cent withholding tax, he stated. "This is totally unreasonable as the value of bullion is already high and these taxes add to the price, making the precious metal even more costly," he explained.

Gold once again broke the all-time high barrier on Saturday reaching Rs34,114 per 10 grams and Rs39,800 per tola (11.7 grams) as international prices skyrocketed too. Gold in the international market on Friday was valued at $1,257 an ounce as the euro declined further against the dollar.

The precious metal was valued at Rs34,028 per 10 grams in the local bullion market on Friday, which was also the previous peak.

Chand said that gold dealers had often appealed to the government to do away with the withholding tax, but so far nothing had come out. He said even the recently announced budget completely ignored their sector, and nothing was announced for them.

However, he added that undocumented gold was entering the country in the form of smuggling through launches. "Some dealers have no choice but to bring in gold through the red channel when the legal way of importing the precious metal is so expensive," he said.

The Express Tribune spoke to five different gold dealers in Karachi to ask them whether they imported gold to make jewellery for their customers. All of them declined and said that they reused the gold which people sold to them.

This highlighted another aspect of the impact the steep prices of gold have had in the country. The flow of people selling personal gold jewelleries has increased significantly.

Kamran Ansari, a gold shop owner at the KDA market, said that each time people learn that prices have hit an all-time high, he gets at least one customer who wants to sell the jewellery in exchange for money.

"Right now, it is mostly the recycled gold that is being used in the markets and by the design makers," he said.

By 'recycled gold' Kamran meant that people bring in their gold items, which they are paid for, minus 25 per cent making charges. These items are then melted into liquid form and remade into different and new designs and then sold in the market.

On the other hand, Saba Saleem, President of the Artificial Jewellers Association, said that the demand of imitations has risen significantly. He said that artificial jewellery is brought into the country mostly from Far Eastern countries while some are also made here.

He said that artificial jewellery, being complementary items to real gold, has witnessed an incline in demand since the yellow metal surged to "levels that are not within our customers' reach anymore".

Published in The Express Tribune, June 20th, 2010.
COMMENTS
Comments are moderated and generally will be posted if they are on-topic and not abusive.
For more information, please see our Comments FAQ