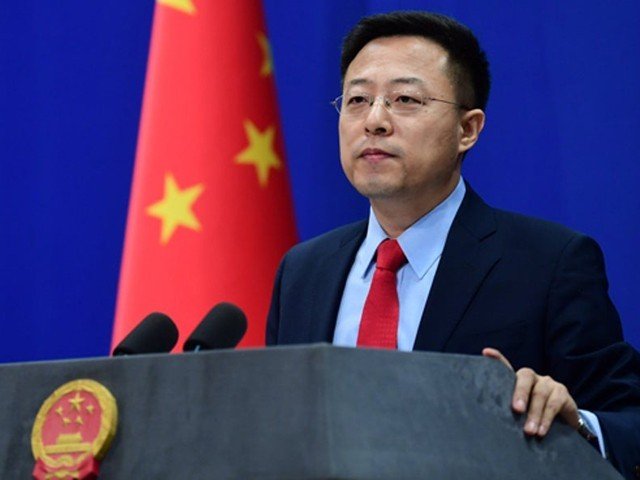 ---
BEIJING:
China warned India on Friday not to misjudge the current situation and stressed the need for both sides to work together for peace in the region and resolve the issue of border tension through diplomatic and military negotiations.
Reacting to Indian Prime Minister Narendra Modi's surprise visit to a military base at Nimoo in Ladakh frontier region, Chinese Foreign Ministry's Spokesperson Zhao Lijian said that both sides should not take any actions that could further complicate the situation.
"Now, India and China are in communication and negotiation on lowering the temperature through military and diplomatic channels. So, no party should engage in any action that may escalate the tension at this point," Zhao told a regular briefing.
Modi made an unannounced visit to a military base in Ladakh, bordering China, where the soldiers of the two countries were in a tense standoff for nearly two months, particularly after the killing of 20 Indian soldiers in clash with Chinese troops.
Responding to a question about Indian Transport Minister's statement regarding a ban on the Chinese companies building roads in India, Zhao said that certain politicians in India had been issuing remarks that were detrimental to bilateral relations between the two countries recently.
"Our bilateral relations need to be held with the concerted efforts, Indian side should work with us towards the same goal, to uphold the general picture of our common interests in bilateral relations," he added.
Zhao said that China hoped both countries could meet each other halfway and try to resolve the tension through diplomatic and military negotiations and ensure the peace and stability in the region. "The Indian side must not misjudge the current situation, and China hopes to work with India to maintain the overall peace and stability, he added.
The Indian Prime Minister, accompanied by Chief of Defence Staff Gen Bipin Rawat and Army Chief Gen MM Naravane arrived at Nimoo on Friday morning and interacted with army, air force and ITBP personnel, according to media reports.
India has sent huge reinforcements of soldiers, military equipment and fighter jets into the already highly militarised region. The disputed area covers nearly 3,500 kilometers of frontier—from Ladakh in the north to the Indian state of Sikkim in the northeast—called the Line of Actual Control (LAC).