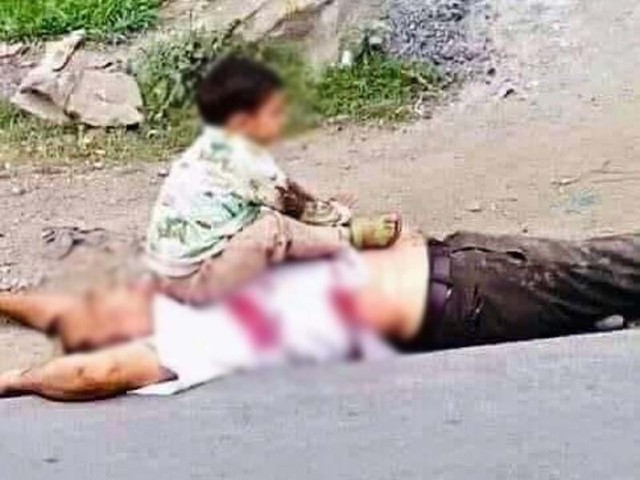 ---
SRINAGAR:
They say a picture is worth a thousand words. Sometimes, it screams only one: barbarity.
The shocking image of a toddler sitting on the bullet-riddled, bloodied body of his grandfather stirred up outrage in the Indian Occupied Jammu and Kashmir (IOJ&K). And the numbing pain was felt by all those who believe in humanity everywhere in the world.
Even India's jingoistic media couldn't ignore the heartbreaking photo after it went viral on social media. The image tells of the grim situation in IOJ&K where millions of Kashmiris have been living in India's chokehold since last August.
Blinded by economic interests, the international community looks on like a silent spectator as a humanitarian crisis is unfolding right in front of their eyes. But if this chilling image would not awaken the world to the suffering of the Kashmiri people, then what else would?
Hundreds in Indian Occupied Jammu and Kashmir staged protests on Wednesday, accusing the occupation forces of martyring an elderly man whose grandchild can be seen sitting on his body in a shocking image which was widely shared on social media.
The family of Bashir Ahmed Khan said that he was dragged out of his car and shot dead by the paramilitary troopers. His three-year-old grandson, who was travelling with him, was later pictured sitting on his chest.
Indina paramilitary police spokesperson Junaid Khan, on the other hand, alleged that the freedom fighters opened fire from a mosque attic in the northern town of Sopore, setting off a battle with security forces.
"Locals said that he (Bashir) was brought out of his car and shot dead by the forces," Farooq Ahmed, a nephew of the martyr told AFP.
"They told us that someone in uniform then put the child on his chest as he lay dead on the road and took photographs," Farooq Ahmed said.
The heartbreaking photo of the child sitting on the body of his dead grandfather was widely shared on social media.
Hundreds assembled at the martyr's funeral near Srinagar, shouting "We want freedom" from Indian rule.
Pakistan Foreign Minister Shah Mehmood Qureshi, while condemning the horrific incident, said that this was the real face of Prime Minister Narendra Modi's fascist India.
Indian forces have intensified human rights violations against Kashmiri people since a coronavirus lockdown was imposed in March.
Since January, at least 229 people have been martyred during over 100 military operations across IOJ&K, according to the Coalition of Civil Society (JKCCS), a rights group.
Separatists have been fighting Indian rule in the Himalayan region for more than three decades to back demands for a merger with Pakistan.
(With additional input from News Desk)