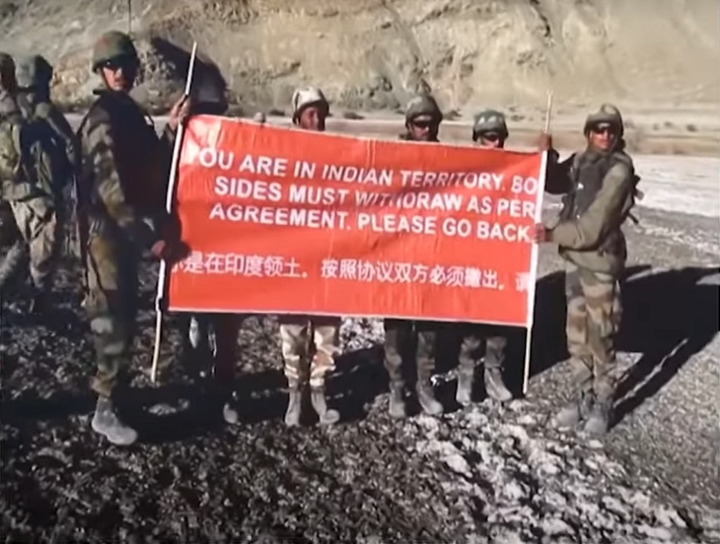 ---
KARACHI: Viral images and posts have surfaced after troops from neighbouring China and India came face-to-face in Ladakh.The Express Tribune analysed the posts to determine their authenticity.

Tensions have flared between the old foes as their soldiers camped out in the Galwan Valley in the high-altitude Ladakh region, accusing each other of trespassing over the disputed border, the trigger of a brief but bloody war in 1962.

Tribune Fact Check: The PK-8303 plane crash

The image below has been shared hundreds of times on Facebook and Twitter here, here and here claiming to show Indian troops holding up a banner asking Beijing to "please go back" on May 26.




Pakistani Twitter began trolling New Delhi over their "cowardice" up against the Chinese army which is in stark contrast to their "atrocities against innocent Kashmiris".A reverse image search on Google found a video on local Indian news outlet WION News Youtube page.

A screengrab at 45 seconds into the video shows the same image being used in the bulletin published on May 2o.


Another video that has gone viral purportedly shows a Chinese soldier kicking an Indian trooper which sends him flying onto the ground at a distance.


Kick of Century. 😂😂😂
Please go back 😂😂😂#laddakh #China #IndianArmy pic.twitter.com/rXo7QtJKyE#laddakh #China #IndianArmy https://t.co/rXo7QtJKyE

— Sajjad Baloch🇵🇰 (@sajjad_khantwit) May 26, 2020


The video is from the standoff from 2017 with footage of the incident available on a local Chinese website.




While another of a August 15, 2017 skirmish between the troops of the two countries by the Pangong lake in Ladakh shows the incident was a significant showdown, involving fisticuffs and stone-throwing.


The Chinese foreign ministry released this statment in the wake of the incident.




Several Indian news outlets reported last week that an Indian patrol party was detained and later released by Chinese forces after a scuffle between the two sides in Ladakh.

"The situation became very volatile last Wednesday when a scuffle between Indian jawans and the Chinese resulted in detention of some of our jawans but later they were released" a senior Indian senior bureaucrat claimed.

However,the Indian army"categorically denied" the reports."There has been no detention of Indian soldiers at the borders. We categorically deny this," Indian army spokesperson Col Aman Anand claimed.