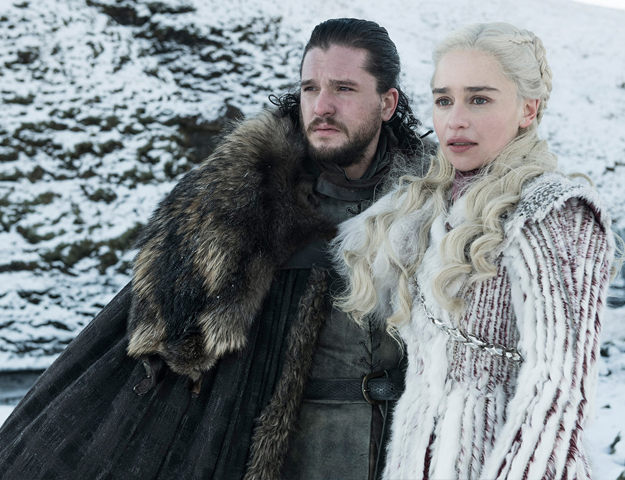 ---
It's been a year since the magnum opus, Game of Thrones, concluded and left fans with mixed feelings about the finale. Many felt enraged, while others felt disappointed with the way the famous show ended.

Before the series finale was even aired, a petition was filed by the fans to rewrite the last season with 'competent writers'.

The cast of the HBO hit, too, had the difference of opinion over their character's fate in the last season. Compiled from Business Insider, here's how the cast of Game of Thrones responded to the criticism the makers of the show faced.

Kit Harrington





Kit Harington's character Jon Snow ended the season by killing Daenerys Targaryen, being imprisoned, and being forced to join what is left of the Night's Watch.

Speaking with PopBuzz in February 2019, Harington described the season finale of Game of Thrones as "disappointing." But then he laughed and said the finale would be "epic," explaining it'd be one of the two.

In May 2019, Harington told Entertainment Weekly that fans would be divided over the show's finale.

Lena Heady




In May 2019, Lena Headey, who played Cersei Lannister on the show, told Entertainment Weekly about her "mixed" feelings towards her character's fate.

Headey also reflected on the poetic nature of Cersei and Jaime dying together, telling the publication, "They came into the world together and now they leave together. It's maybe the first time that Cersei has been at peace."

Emilia Clarke


PHOTO: HBO

Many felt Emilia Clarke's character Daenerys Targaryen drastically changed during the show's final season.

Her character burnt down an entire village of innocent people and her enemies who had surrendered. In the end, she was stabbed and killed by Jon Snow.

In May 2019, Clarke told Entertainment Weekly she was "flabbergasted" when reading the final script, but she understands where the change in her character came from.

Sophie Turner




In May 2019, speaking on the final season, Turner told Vogue that she said she feels a lot of fans have been surprised to see Sansa Stark come into her own sense of empowerment, but she knew she had it in her all along.

"Her power was in her silence. It was only when she got her power back at Winterfell that she became a leader and got her revenge. She's smart and manipulative and learned from the best," said Turner.

Maisie Williams




In May 2019, Williams, who played Arya Stark, told Entertainment Weekly she was convinced Arya would be the one to kill Cersei Lannister and that Arya would use Jaime's face as she did it.

This could have been possible because as fans will remember, Arya trained with the Faceless Men and got the power to wear other people's faces.

"I wanted Arya to kill Cersei even if it means Arya dies too. Even up to the point when Cersei's with Jaime I thought [while reading the script], 'He's going to whip off his face and reveal its Arya' and they're both going to die," she told the publication.

Peter Dinklage




In an October 2018 interview with Vulture, Dinklage said, "I think Tyrion was given a very good conclusion."

"The show's writers ended it brilliantly, better than I could have imagined," he had shared. "It ends beautifully for my character, whether it be tragic or not."

Nikolaj Coster-Waldau




In a May 2019 interview with Vanity Fair, Coster-Waldau, who played Jaime Lannister, explained why the last season was seemingly paced differently from the rest.

"We're used to having a whole season to get to a point. Now, suddenly, a lot of things happen very quickly," he told the publication.

The actor also later said that he's quite a fan of the show's ending, calling it "amazing."

Isaac Hempstead




In a May 2019 guest column for The Hollywood Reporter, Hempstead Wright discussed how "thrilled" he is that his character, Bran Stark, took the throne.

He explained his character's long journey, writing, "Bran becoming king is a victory for the still and considered people of this world, who too often get sidelined by the commotion of those who are louder and more reactionary."

Have something to add to the story? Share it in the comments below.