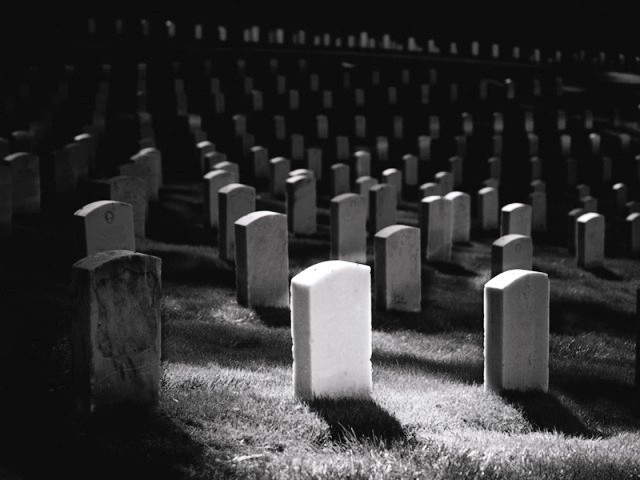 ---
RAWALPINDI: Undertakers in Rawalpindi have increased their prices for digging graves of those who died novel coronavirus (Covid-19) associated causes.

Gravediggers have justified the increase by saying that they were the ones who have to put their lives at risk without having any kind of safety gear while laying an infected patient to rest.

Those succumbing to the pandemic virus are being buried in wooden coffins instead of shrouds made of cloth as per the advice of medics due to the contagious nature of the virus.

Karachi cemetery: Memorial to war's fallen

The Express Tribune has learnt that the charges for preparing a normal grave are around Rs16,000 while for the Covid-19 infected patients, the charge increase by over a 100 per cent, with some charging as much as Rs34,000 for digging a grave.

However, the increased expenses for such burials are shared between the deceased's family and the administration in 60-40 ratio. Family members have to pay around Rs18,000 while the administration pays the remaining Rs16,000. Most Covid-19 victims have been buried in the Dhoke Elahi Baksh graveyard on a site especially earmarked for infected patients.

Undertakers including Riyaz and Naveed said that people, not even family members, like to go close to the body of a Covid-19 infected person and that it is they who put their lives at risk to bury these people, without any safety suits or special gear.

Graves dug in missing teen search empty: Vatican

Interestingly, they said that they used to dig at least one grave every day for people dying naturally and unnaturally. However, since the coronavirus outbreak, they claim that the rate of such cases has drastically declined and they hardly get one such case a week. Over 1,500 people have been infected with Covid-19 in Rawalpindi thus far with 66 associated deaths.

Published in The Express Tribune, May 18th, 2020.