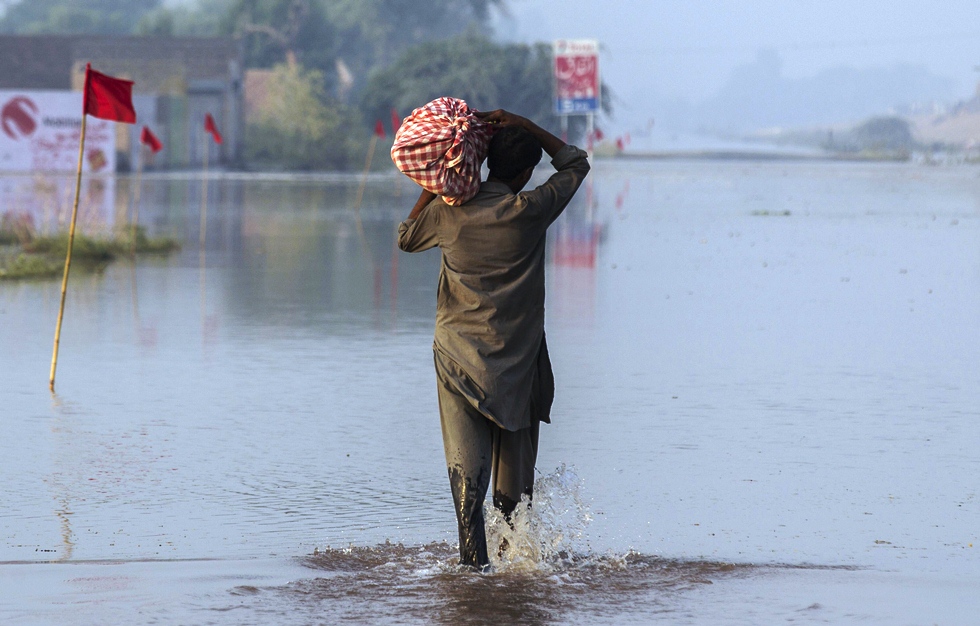 ---
RAWALPINDI/ ISLAMABAD: Heavy rains which lashed the twin cities of Islamabad and Rawalpindi on Thursday wreaked havoc as water gushed into houses of low-lying areas while drains were choked leaving several roads inundated.

Rainwater also increased water levels in Nullah Leh by as much as 14 feet., causing it to overflow in many areas

The Pakistan Meteorological Department (PMD) officials said that the region received around 69 millimetres (mm) of rain during a two-hour rain spell. It has predicted further rains in the Potohar region over the next 24 hours.

Heavy rain brings further death, misery to city

The heavy downpour choked drains in the city and increased the water level in Nullah Leh. The water level in Nullah Lehi near Katariyan reached close to dangerous level while at Gawalmandi, the level had exceeded 12 feet.

Water also gushed into many houses in low-lying areas including Pirwadhai, Khurram Colony, Javed Colony causing damage to properties. The water also forced dwellers to move to the rooftops.

Further, due to the cloudburst, many thoroughfares were flooded, including Murree Road, Mall Road, Peshawar Road, Jhelum Road, Express Highway, GT Road, and Misryal Road.

The torrential rain spell had prompted flooding in the Sawan River and the district administration issued a warning to the people living around its banks. The Rawal Dam was also filled to its brim, forcing the dam administration to open its spillways.

Notices to crumbling buildings residents

As heavy rain battered the city, the Rawalpindi district administration issued red notices to dwellers of over 280 decrepit buildings in the city.

Residents of these worn-out buildings were told to evacuate them to avert any loss of lives in any untoward incident. Many of these buildings are managed by the Auqaf department and were built over a century ago.

Unexpected heavy rain lashes parts of Karachi

Most of these structures are located within a few old neighbourhoods including Raja Bazaar, Kaalan Bazaar, Moti Bazaar, Babra Bazaar, Bagh Sardaran, Dingi Koi, Ratta Amral, Purana Qila, Murree Road and in the cantonment areas.

Each structure is occupied by up to eight families who live there as tenants. The rentals, fixed over a century ago, range from Rs500 to Rs1,800 per month. Therefore, the tenants are not ready to evacuate them as they fear of losing their only shelter.

Tenants of these decrepit buildings including Muhammad Shafique, Idrees Khan and others told The Express Tribune that a case related to evacuation of these buildings is pending in court. 

Published in The Express Tribune, May 15th, 2020.
COMMENTS
Comments are moderated and generally will be posted if they are on-topic and not abusive.
For more information, please see our Comments FAQ