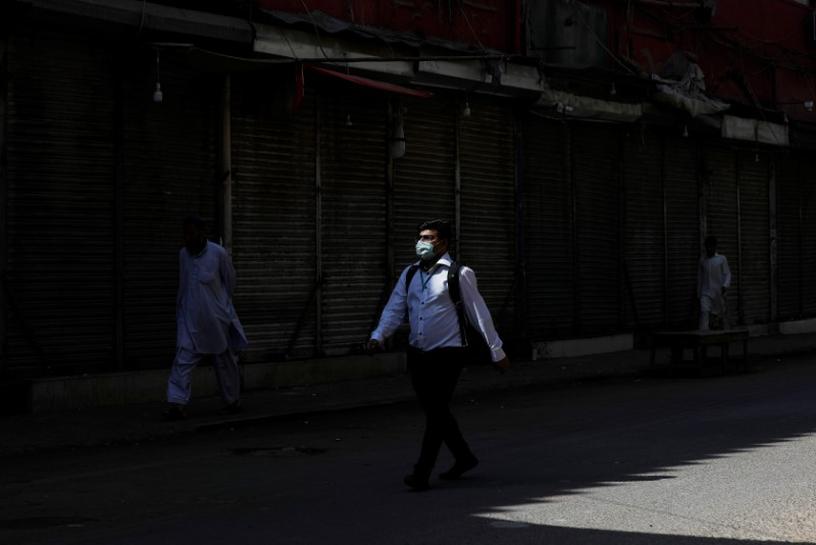 ---
LAHORE: Following the National Coordination Committee's (NCC) announcement about easing the lockdown imposed to curb coronavirus, a large number of traders and shopkeepers reached city markets on Saturday to open their businesses after one and a half months.

However, police did not allow traders to open their businesses, especially in the main markets, where there were chances of large crowds gathering.

In several markets and commercial areas, like Anarkali, Hall Road, Hafeez Centre and Gulberg, shopkeepers and their salesmen were seen waiting outside their shops in confusion as police officials informed them that they were not allowed to open their businesses. They said they had to wait for the latest government instructions and SOPs.

Sindh on same page as Centre on lifting lockdown

Speaking to the media, the traders complained of their deteriorating economic condition as a result of losses owing to the prolonged closure of their businesses.

A small trader from Anarkali Bazaar said the lockdown has pushed several small traders and cart holders out of their business. "We were easily earning our livelihood before the lockdown and paying to our suppliers. In over a month-long lockdown, all our savings have been wiped out. This lockdown has even eaten our capital," he maintained.

Meanwhile, the Punjab government announced in a tweet that it will issue a fresh notification about industries and sectors which will be opened in a phased manner. An official of the provincial government highlighted that as per the decision of the NCC all businesses have to remain closed on Saturdays and Sundays. Traders are desperate to open their businesses without paying attention to the risk linked to their action.

'People are having less sex in lockdown'

However, the Punjab government issued a fresh order on Saturday evening to clear the confusion among the trading community. The order highlights that in the phase-II, "the construction sector, i.e. businesses of steel and PVC pipes, electric appliances, manufacturers of steel and aluminium equipment, ceramic and paints industries, sanitary, paints, steel and aluminium works and hardware stores subject to the adoption of SOPs and guidelines issued for industrial units and sale points" are allowed to open.

All factories not included in the negative list, including export industry, will be allowed to resume their operations. However, detailed notifications in this regard shall be issued separately by the Industries Department.

"All retail shops except large shopping malls subject to the adoption of SOPs for four days a week operationalisation and all hair salons, barbershops and gymnasiums" were also exempted from the lockdown under similar conditions.

Govt to end lockdown from 9th in phases

All shops and businesses exempted under this order shall open for four days in a week from 8am to 5pm and remain closed on Friday, Saturday and Sunday. It states that grocery stores, general stores, karyana stores, bakeries, flour chakkis, dairy shops, chicken, meat and fish shops, fruit and vegetable shops and wholesale markets of grain, fruit, cattle and vegetables, along with tandoors and automobile workshops will remain functional seven days a week.

It says that all tyre puncture shops, spare parts shops, driver hotels, petrol pumps and oil depots, takeaway and home delivery from restaurants can remain open round the clock. Postal and courier services for pick and drop and their inter-city and inter-provincial movement is also allowed from 9am-5pm on all days of the week.

As per the new orders, continuous process industries can also remain functional. However, a separate notification will be issued by the provincial industries department for the purpose.

May 7: PM says lockdown to be lifted in phases from May 9; nationwide tally nears 25,000

To remove any ambiguity, the government   clarified that the businesses that will remain closed include large shopping malls, educational institutions, restaurants except takeaway and home delivery, hotels except takeaway, home delivery, hair salons and gyms, marquees, marriage halls and cinemas.

Places of large gatherings, public processions, gatherings and congregations, organised sports events and concerts and public transport except motorcycle rickshaw and auto rickshaw will are remain closed.

Published in The Express Tribune, May 10th, 2020.
COMMENTS
Comments are moderated and generally will be posted if they are on-topic and not abusive.
For more information, please see our Comments FAQ