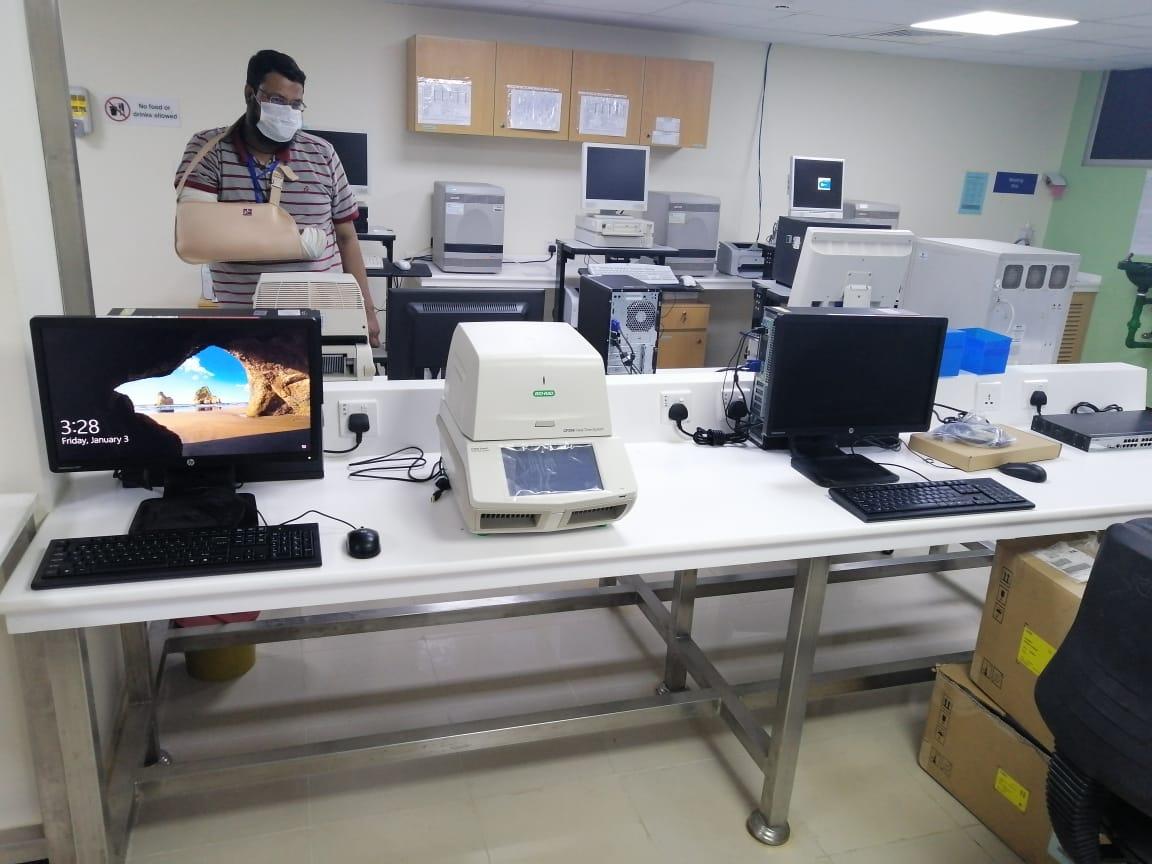 ---
ABBOTTABAD: A manual PCR machine has been provided by Khyber-Pakhtunkhwa government to Ayub Medical Teaching Institution (AMTI) Public Health Laboratory to tests Covid-19 virus, whereas the automatic machine at AMTI has been shifted to Swat, the constituency of Chief Minister Mahmood Khan, sources said.

The mush publicised automatic PCR machine provided by NDMA to AMTI was shifted to Swat, the home district of CM Mahmood. On severe public criticism, provincial government managed to provide a manual PCR machine in Abbottabad.

Health department officials told The Express Tribune that PCR machine installed in AMTI is manually operated which exposes staff posted in the laboratory to virus.

Laboratory staff manually extract sample, wash the equipment, and mix the chemicals before reading by PCR. In complete automatic PCR machines these three stages are done by the machine in closed chamber.

According to AMTI Medical Director Dr Ahsan Aurangezeb at present they have no auto-extractor with PCR machine therefore they have been extracting samples manually. He told that this public health laboratory has so far conducted 806 tests out of which 66 positive cases have been traced from Hazara division. The report further stated that 700 cases were not detected corona while 35 cases were declared inconclusive.

Head of Pathology Department AMTI Professor Dr Naeema Afzal said they have been following the infection control guidelines of WHO. She said that minimum people have been involved with strictly observing of properly isolation and quarantine protocols. She although has reserving about the area where it has installed , however she told they have posted temporary faculty and staff managing to best of their ability. She urged need of molecular biologist in virologist in the PCR laboratory & told that they have not compromising on biosafety.

Khyber Pakhtunkwa Health Services in its notification issued on April 21 had authorised Abbottabad public health laboratory based at AMTI to conduct independent testing of patients with Covid-19 and generate its own lab reports. CM Mahmood had inaugurated the PCR machine for Covid-19 at AMTI on April 22.

Published in The Express Tribune, May 8th, 2020.
COMMENTS
Comments are moderated and generally will be posted if they are on-topic and not abusive.
For more information, please see our Comments FAQ