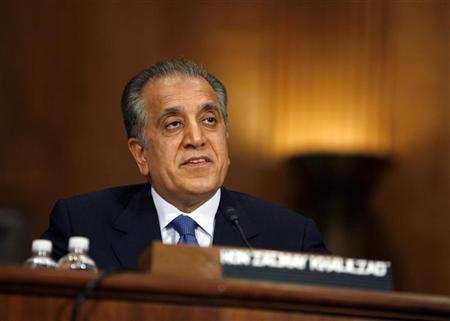 ---
WASHINGTON DC: The US special representative for Afghanistan would urge the Taliban in new talks to curb violence and preserve a two-month-old accord aimed at ending the war in their country, the State Department said on Wednesday.

Zalmay Khalilzad, the US envoy who brokered the February 29 agreement with the Taliban, flew out on Tuesday to Qatar for the new meeting on a trip that will also include stops in India and Pakistan, a State Department statement said.

Khalilzad "will urge support for an immediate reduction in violence, accelerated timeline for the start of intra-Afghan negotiations, and cooperation among all sides in addressing the Covid-19 pandemic in Afghanistan," the statement added.

Top US negotiation team, army chief discuss Afghan reconciliation process

The department also said that Khalilzad would meet officials of the Indian and Pakistani governments during travel to New Delhi and Islamabad. However, it did not provide precise dates.

Under the agreement with the Taliban, the United States has started to withdraw troops from Afghanistan as part of President Donald Trump's bid to end America's longest war. The Taliban promised not to strike forces from the US-led coalition – but made no such pledges toward Afghan troops.

Afghan prisoner exchanges, US peace plan threatened by coronavirus

After lengthy talks behind closed doors, the Taliban and Washington signed an agreement on Feb 29. The deal stipulated the Afghan government would release 5,000 Taliban prisoners, while the insurgents would free 1,000 Afghan security force personnel.

The swap was supposed to have taken place by March 10 but has hit several hurdles, with Kabul claiming the Taliban want 15 of their "top commanders" released. The insurgents have accused Afghan authorities of needlessly dragging their heels on the exchange.

So far, the Kabul administration had released more than 900 Taliban fighters. In return the Taliban have released 132 Kabul administration prisoners. "So far 933 Taliban detainees have been released from Afghan jails," Javed Faisal, spokesman for Afghanistan's National Security Council, told AFP.