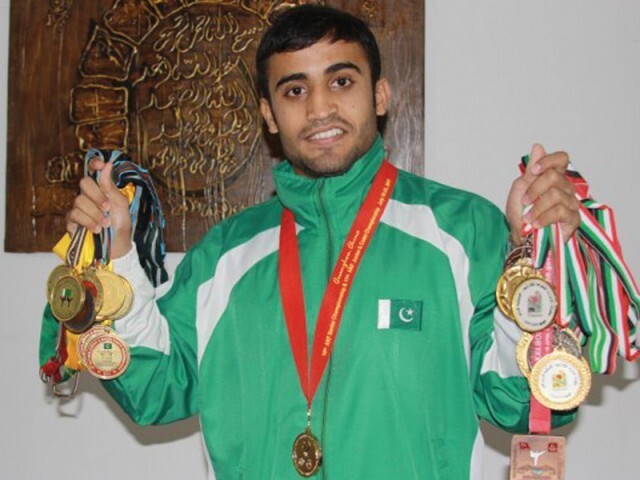 ---
KARACHI: Pakistan's most decorated karateka Saadi Abbas Jalbaini, who became the first athlete from the country to ever win the gold medal at the Asian Karate Championship and 2019 UAE Championship had the toughest night as he watched his home burn in the UAE, where he lives as he posted the video on Twitter.


Lost my aprtment but Allhmduliha me and wife is save. pic.twitter.com/Kj4DUfdZ5P

— SAADI ABBAS (@Saadiabbas75) May 5, 2020


Abbas and his wife had managed to escape what looked like a life-threatening fire just in time.

Abbas, who also won Pakistan a gold medal in the 2017 South Asian Championship along with the historic gold medal at the US Karate Open Championship in 2014, has been playing for UAE's Ittehad Kalaba FC club and he is based in Sharjah.

The unfortunate fire started on the 10th floor of his apartment building while he and his wife lived on the 38th floor.

The initial reports of the fire have been taken in and Abbas confirmed that he will be finding out more soon.

Abbas had been posting his quarantine updates on the social media, he had been training at home as the Covid-19 pandemic has forced the global population to self-isolate in lockdowns across the world.

Abbas has lost his home and his car in the horrifying fire.

Meanwhile, Abbas carried on with his resilient self even in the face of adversity as he told The Express Tribune after he was reached out, "Allah will take care of this, whatever He sends our way it is for the best."

The Express Tribune wishes Saadi and his wife well.
COMMENTS
Comments are moderated and generally will be posted if they are on-topic and not abusive.
For more information, please see our Comments FAQ