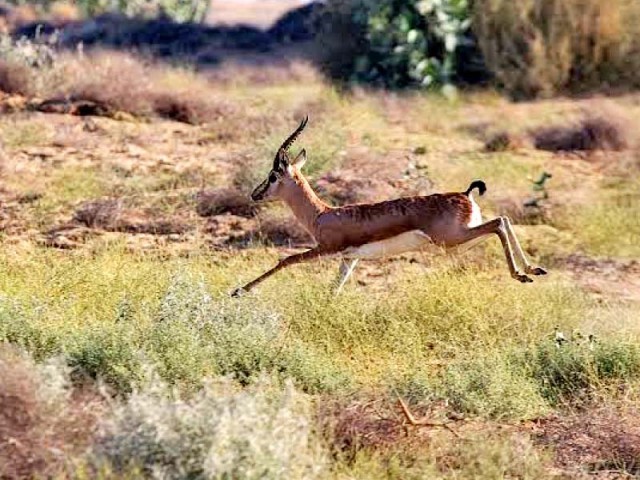 ---
KARACHI: In a rare sighting, over a dozen young, healthy Chinkara deer was witnessed freely roaming on a thoroughfare near the Northern Bypass on Friday, where they grazed for some time before returning to their wildlife sanctuary adjacent to Hub Dam.

According to a Sindh wildlife department (SWD) official, it was for the first time that Chinkara deer have come out of the wilderness near Karachi. Awed by the uncommon occurrence, he told The Express Tribune, "There were two groups, each comprising between six and eight deer."

Explaining the animals' unusual behaviour, SWD conservator Javed Ahmed Mahar said, "It is because there is neither any human activity [in the area nowadays], nor air pollution."

Wildlife dept investigating illegal hunting of deer

He said that a variety of animal species are kept protected in wildlife sanctuaries. "They are hardly ever seen coming out of their habitat," related Mahar, adding that unusual animal behaviour was being witnessed across the world because of the lockdown.

He said that Kirthar National Park was home to a large population of Chinkara deer, "but most of them reside near Karchas, which is far away from the road where the deer roamed."

According to Mahar, a rise in the population of Chinkara deer had been observed in the area but no survey has so far been conducted to collect accurate data in this regard.

Some wildlife conservationists also believe that Sindh Ibex Urial, which inhabited the area adjacent to Hub Dam in large numbers, as SWD data suggested, might move closer to cities as a result of decreasing human activity and interaction.

Indian wild deer enter Pakistan to save their lives

"Wildlife conservationists have been saying for years that human interference is disturbing the wildlife and during the last couple of weeks, we have observed that these are animals trying to regain and reclaim their space," emphasised Mahar.

Claiming that wolves and other wild animals had also been sighted near the Northern Bypass, Mahar said that the area featured "diverse flora and fauna over the vast, dry premise near Hub Dam."

Besides, various other wild animals have been sighted near human settlements across Sindh since the enforcement of the lockdown, moving SWD officials to try to collect data on these rare occurrences.
COMMENTS
Comments are moderated and generally will be posted if they are on-topic and not abusive.
For more information, please see our Comments FAQ