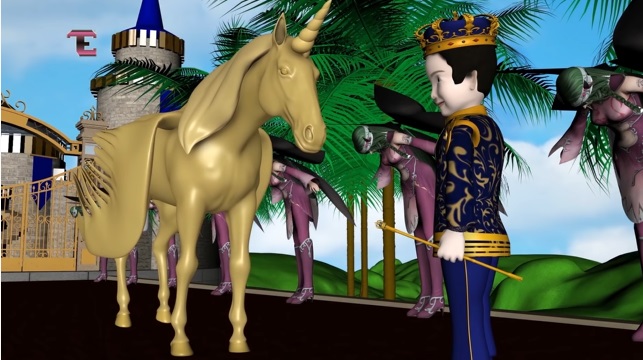 ---
KARACHI: What begins like a scene out of a Lego Movie ends like a town full of vampires has just been rescued by a slayer. Such is the emotional range of Taher Shah's latest musing Farishta. The naysayers might take offense to associating terms usually reserved for literary giants and maestros with Shah. But their time would be better spent if they sit down and witness the sheer genius of an artist who has struck gold not once, but thrice, in a row.

Shah is not a singer, neither is he a musician but he has something that Ali Sethi has struggled to obtain despite being a pitch-perfect singer and an exceptional performer; a soul. However, his is a soul that cannot be summoned, either by pre-teen cousins with an ouja board or by a beverage company. Like a true thespian he moves to his own rhythm and blocks his own stage whenever he feels like putting up a show. Unlike Ghalib, Shah needs no angels from heaven to put words to his feelings, he is the Angel, the Farishta and the Brahmin who believes this is going to be a good year.




Of unicorns in Legoland

A friend who is into gaming was reminded of Tekken 2 intro sequence when he saw the visuals of  Shah's Farishta; one of those 90s games that didn't load beyond the intro sequence but ended up messing your PC for good. I think it's a mix of lego world and sunset riders from Mega drive 2. Or perhaps Camp Candy's Urdu dub overlaid by Mustansir Hussain Tarrar and Talat Hussain's random ramblings that are suddenly juxtaposed with Dodo, Dodo, come back. Dodo come back.




It's a weird time warp about love, affection and most importantly the innocence of emotions set in the cultural imagination of a 90s school-going kid. Since his on-screen age could be anywhere between 12 and 82, its bit of a challenge to conclude whether he is indeed a 90s kid but the stress on the sincerity of love being complemented by dandelions, tulips, and unicorns is a sincerity signature of Shah. A thought process only he can see eye to eye in this world infested by drugs and disease.

The Shah's cinematic universe is expanding

Bear with me for a bit as I take you back to 2016. The year Shah gave us Angel and then according to a press release, received threats for spreading the message of love. The song begins with shots of the cosmos and then the Shah, the Angel, is revealed to us. The video goes onto introduce two very important characters. First, the blonde female angel who is dressed in light blue and then just before the song comes to an end we run into a mini-angel; the second generation of Shah's cinematic universe.




Farishta begins where Angel left off and introduces the love-life and passionate journey of that mini-angel who now has an empire of his own. The members of his royal court bow in front of him as he takes off on a unicorn to meet the love of his life, who is also a blonde fairy-like angel. After meeting her he offers a prayer for the world to be more angelic as he brings her back to his castle, we assume as a wife.




Within three songs Shah has introduced more than four characters all of whom are seminal to his storyline of love against everything. I do have a feeling that in his next song we might see the Junior Shah abandon his castle and try to find the meaning of life under a tree after his people turn to drug-induced orgies. Or he could simply have a child of his own and we are cursed (or blessed) to see his kin reproduce for eternity.

Taher Shah's cover of Taher Shah

It is indeed a tragedy that  Shah's latest song is a cover. We needed a new antidote for our Cornona blues.  But, perhaps by doing a cover, he is formally announcing his inclusion in the Pakistani music scene of extraordinary artists. Or, maybe he is just rubbing it on everyone's face that he doesn't even need a new composition to get 100K views in less than 10 hours with zero marketing. I know the upper-class cosmopolitan minglish speaker in you is thinking of your struggling indie musician friend who no one pays any heed to.




I am sure he or she must have worked really hard and deserves more. But please don't pacify yourself by saying that Shah is a joke. He is not. In fact, he is far from it. He has come up with his own formula and it is working. The facts are that he has done exactly what Ali Sethi does but without the help of Mehdi Hasan. And any critique of his hairstyle, looks and overall decorum of carrying himself will be a very lame and classist attempt at discrediting an artist who has proven everyone wrong by excelling without subscribing to the acceptable standards of good and bad.

At the end of the day

Shah's Urdu version of Angel titled Farishta can land anywhere between a bad acid trip and a serious philosophical treatise on innocence and purity of love. It totally depends on how open you are about someone expressing his heart out and how accepting you are of an unpopular display of emotions that everyone expresses the ordinary way. As far as Shah and jokes around him are concerned, they will come; they will be very creative but deep down a bit ill-hearted and misplaced.

Paap culture is a bi-monthly column about cynical commentary on bizzare pop culture happenings

Have something to add to the story? Share in the comments below.
COMMENTS
Comments are moderated and generally will be posted if they are on-topic and not abusive.
For more information, please see our Comments FAQ