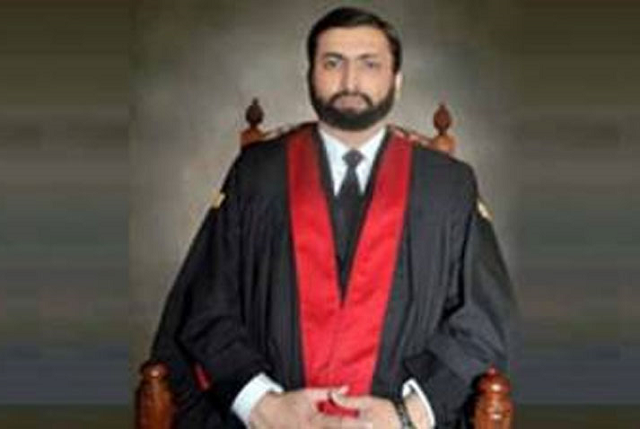 ---
LAHORE: The new Chief Justice of the Lahore High Court, Justice Muhammad Qasim Khan, has dissolved a division bench that was hearing National Accountability Bureau's (NAB) several cases, including those involving Pakistan Muslim League-Nawaz (PML-N) leaders Mian Shehbaz Sharif, Maryam Nawaz and others.

A new division bench, led by Justice Sardar Ahmed Naeem, was constituted and will start hearing NAB-related cases by March 24. The other member of the bench is Justice Farooq Haider.

The dissolved bench was headed by Justice Ali Baqar Najafi. Legal experts say that NAB had apparently failed in establishing its cases against the opposition party's top leaders, as a result of which the court granted relief to them. Some leaders of the ruling Pakistan Tehreek-e-Insaf (PTI) had alleged earlier that it was an era of bails for the PML-N camp.

Justice Waqar approaches JCP over not being elevated to SC

Meanwhile, Punjab Assembly Opposition Leader Hamza Shehbaz Sharif had expressed distrust on the bench from which top PML-N leaders had obtained bails. However, after seven months he showed trust in the same bench.

PTI's prominent leader Aleem Khan had also been granted bail by the same bench.

The bench had granted bail to three-time premier Mian Nawaz Sharif on October 25 last year on medical grounds in the Chaudhry Sugar Mills case. Bail was also granted to PML-N vice president Maryam Nawaz on November 4 in the same case with observation that charges levelled by NAB required further probe.

Justice Qasim Khan takes oath as LHC chief justice

On February 18, post-arrest bail was granted to accused Yousaf Abbas, nephew of Nawaz Sharif, in the Chaudhry Sugar Mills money laundering case. On May 28 last year, Hamza Shehbaz expressed his distrust over the bench when it was hearing the Ramzan Sugar Mills, Saaf Paani project and assets beyond means cases initiated by NAB against him.

Taking the rostrum, he said he had strong concerns over remarks of NAB chairperson in an interview that he would not let Hamza hide behind bails. He said the nation would ask whether the NAB chief was so powerful to get cancelled his bail. The bench decided not to hear the cases and sent the files to the chief justice, where they were marked to another bench.

However, on December 18, Hamza Shehbaz showed his full confidence on the same bench before which he had raised questions during the hearing of his plea for bail.

Published in The Express Tribune, March 20th, 2020.
COMMENTS
Comments are moderated and generally will be posted if they are on-topic and not abusive.
For more information, please see our Comments FAQ