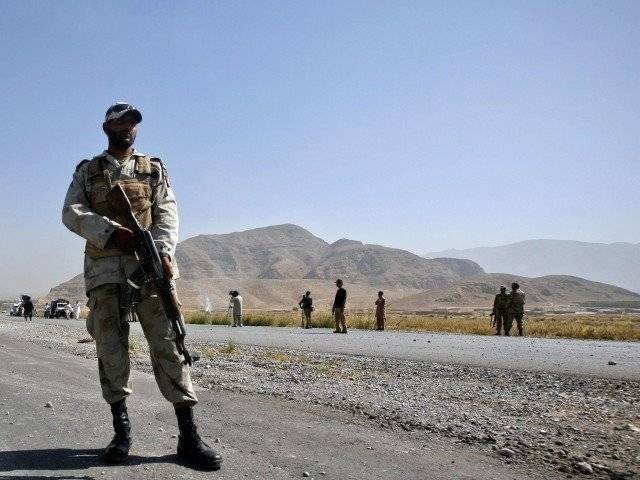 ---
KARACHI: Three years after being launched, Pakistan Army's sweeping campaign against terrorism has cleansed internal and external elements responsible for creating anarchy in the country.

Known as Radd-ul-Fasaad, the intensive nation-wide operation against terror groups, steered by Army Chief General Qamar Javed Bajwa, has successfully thwarted more than 400 terrorist plots across the country since 2017.

According to defence analysts and former military officials, the operation was not easy by any measure. "It was a difficult operation -- primarily because the military had to combat an unknown enemy across the country," said defence analyst Maj-Gen (retd) Inamul Haq.

Gains made in war on terror will be consolidated for enduring peace, stability: Pakistan Army

Haq said, "Intelligence Based Operations (IBO) across the country played a very important role in defeating the militants". "Credit goes to the nation-wide IBOs for eliminating terrorism," he added.

During the multi-faceted campaign, the military carried out more than 49,000 IBOs to foil terror attacks and prevent militants from disrupting life across the country.

Haq credits operation Radd-ul-Fasaad for helping Pakistan establish complete control over tribal areas. "The operation completely eliminated foreign militant havens in tribal areas," he claimed.

A decade before the operation, the threat of terrorism virtually jolted every city in Pakistan, shattering investor confidence and the country's reputation. Subsequently, nations all over the world issued travel advisories for their citizens, asking them to avoid travel to Pakistan. Three years on, that uncertainty no longer haunts Pakistan. "The overall law and order situation has improved across the board. The country is safer than any time in history," said Maj-Gen (retd) Inamul Haq.

Army launches Operation Radd-ul-Fasaad against terrorists across the country

The operation has not only improved the domestic security situation but also enabled Pakistan to appear more stable and reliable on the international stage. "There is no doubt the operation was successful in restoring Pakistan internally and externally," said Haq, who remained closely involved in the operation.

Global praise

According to analysts, the operation has earned Pakistan praise for its achievements in countering terrorism. In public statements from leaders around the world, Pakistan has earned praise for its efforts to curb terrorism. The country's efforts were lauded recently by United Nations Secretary-General Antonio Guterres during a meeting with Army Chief General Qamar Javed Bajwa. According to the statement, Guterres commended the improved security situation in Pakistan and the country's efforts towards regional peace and stability. Guterress is not the only one to appreciate Pakistan's efforts. Shortly before his death, John McCain, the U.S. senator from Arizona, also commended Pakistan's fight to eliminate terrorism. Recalling a meeting with Retired Gen. Stanley A. McChrystal, a former commander of the International Security Assistance Force in Afghanistan, Maj-Gen (retd) Inamul Haq said: "High ranking U.S. military officials were inspired by the military's operation to defeat terrorism." Acknowledging the military's efforts, during a recent summit, China's Foreign Ministry spokesman Geng Shuang also joined the long list of leaders who have lauded Pakistan's continuing quest to combat terrorism.

Border with Afghanistan

According to official figures, the Pakistan Army has launched a total of 1,200 operations out of which 350 were large scale.  Under the offensive, meant to rein in a host of militant threats from outside Pakistan, the military was also able to seal the porous 1,450 km of 2,611 km Afghanistan border with fences. The move was aimed to prevent unwanted incursions from Afghanistan. To secure the boundary further, the army has also dotted the border with 843 security forts out of which 343 have been completed and another 161 are under construction.

Despite the odds and limited resources, Maj-Gen (retd) Inamul Haq said the Pakistan Army managed every aspect of the operation. "The military constantly reconfigured its tactics and doctrine to deal with the threats," the analyst said.

"The army was fighting an irregular enemy. The tactics had to be reconfigured constantly," he added.

Tourism

Almost a decade ago, Pakistan made headlines every other day for terror attacks. Comparing the security situation with 2010, analysts said "Pakistan is safer and secure. So much so that we are now hosting international cricket series in Karachi, a city that has been infamous for its unpredictable security situation."

The improved security situation not only promotes tourism in the country but also attracts religious tourists. Increased security and safety in the country, recently attracted a delegation of Buddhist monks from the Republic of Korea, who visited major Buddhist sites in Pakistan. In the first of firsts last year, the British Airways returned to Pakistan after a hiatus of a decade, with its Boeing 787 Dreamliner ferrying 240 passengers from Heathrow to Islamabad.

Radd-ul-Fasaad, analysts agree, has been the reason behind Pakistan's resurgence on all fronts. "The results of internal peace in the country are visible. You're witnessing a period of great confidence and stability," said Maj-Gen (retd) Inamul Haq.
COMMENTS
Comments are moderated and generally will be posted if they are on-topic and not abusive.
For more information, please see our Comments FAQ