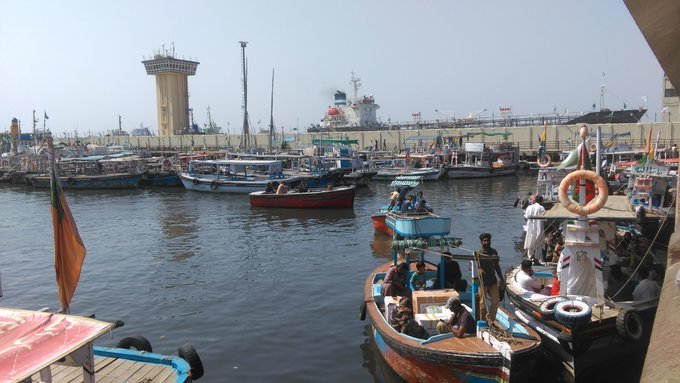 ---
KARACHI: A top government doctor has suggested that a toxic fumigant, used in pesticides and fumigation, may be behind the 'toxic gas spill' mystery in Karachi's Keamari locality.

The mysterious gas has so far taken 14 lives and sent scores more to hospitals to seek emergency treatment after victims reported of severe breathing issues, stomach aches and throat irritation.

Head of one of the city's leading hospitals has told The Express Tribune that the mysterious gas could be Methyl Bromide.

"It was not Hydrogen Sulfide for sure, but it could also be Methyl Bromide."

The representative, on condition of anonymity, added that the health facility had admitted two patients who were experiencing seizures. "One of the patients is off the ventilator and stable."

The spokesperson said that 35 patients were brought in to the hospital on Tuesday evening, including two staff members of Ziauddin Hospital. The two medical staffers are admitted in the intensive care unit (ICU) currently.

At Ziauddin hospital, around 82 patients were brought in, however, most were discharged after basic medical aid as they did not show any serious symptoms.

Meanwhile, Director- General (Quarantine) Department Plant Protection Dr Falak Naz dismissed reports of an overexposure to soybean dust as the possible cause for the health emergency.

Experts suggest overexposure to 'soybean dust' causes toxic gas deaths in Karachi

She was referring to results of a preliminary report submitted by the International Centre for Chemical and Biological Sciences (ICCBS) at the Karachi University.

The official said the department had run checks on the American ship carrying soybean and found no hazardous elements in the specimens checked.

Dr Falak added that soybean is treated with phosphine pills at docks in the United States, but the effects wear off by the time the ship reaches a destination as far as Karachi port.

"It was not treated with pesticide spray at the time of unloading because the agricultural product was already insect-free."

Keamari abandoned amid rising fear of health hazard following gas leak

At the Keemari port, however, the ship carrying soybean remains docked despite the Sindh government's orders to stop its off-loading and move it to Port Qasim.

Radio Pakistan reported that a high-level meeting, co-chaired by Minister for Maritime Affairs Ali Haider Zaidi and Provincial Minister for Local Government Sindh Nasir Hussain Shah, was held and a committee was formed to probe the matter.

The Jackson police registered a case on the matter against unidentified persons on behalf of the state on Monday. The case was filed under Sections 322, 284 and 337-A of the Pakistan Penal Code, pertaining to unintentional murder and negligent conduct with respect to poisonous substances.

What is methyl bromide?

Methyl bromide is a highly toxic gas used as a fumigant and pesticide. The United States Environmental Protection Agency says its exposure may occur during fumigation activities. Studies have indicated that acute inhalation of the gas may severely injure the lungs.

"Acute and chronic (long-term) inhalation of methyl bromide can lead to neurological effects in humans and animals," says an EPA report as it classifies methyl bromide as a Group D - not classifiable as to human carcinogenicity.
COMMENTS
Comments are moderated and generally will be posted if they are on-topic and not abusive.
For more information, please see our Comments FAQ