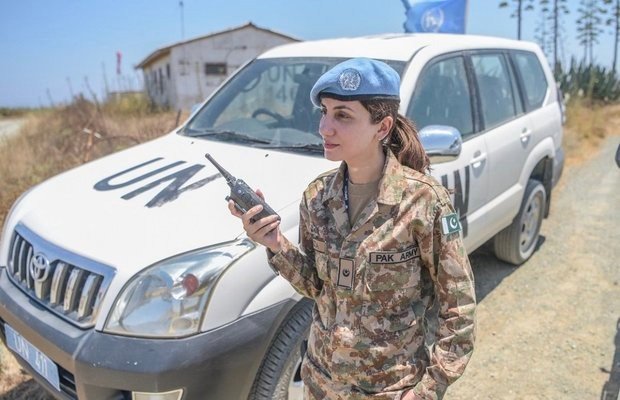 ---
NEWS DESK: Blue helmets from Pakistan have a long and storied history with United Nations peacekeeping missions and the country is the third-largest contributor of personnel since participation began in 1960.

Continuing this proud tradition of the Pakistani armed forces, 78 Pakistan Army women peacekeepers are serving under the umbrella of the UN in various roles across the world.

The country also achieved the goal of 15pc women participation in UN peacekeeping missions in early 2019.




Pakistan Army women peacekeepers are serving as part of Female Engagement Teams (FETs) and as staff officers at various headquarters. Pakistan was also the first country to deploy female engagement teams to Congo on June 19, 2019.

Apart from two female engagement teams in Congo, a third team would commence operations from March in the Central African Republic.

So far, around 450 women peacekeepers from Pakistan have served in UN missions.

The women peacekeepers from Pakistan have won numerous accolades, including tributes at the UN and medals for exceptional performances and services rendered.

In 2019, Major Samia Rehman was awarded a certificate of appreciation by the special representative of UN Secretary-General Antonio Guterres – who is due in the country on a historic visit commencing on February 16.






Major Aroof Arif was appreciated as the only female officer for participating in the gruelling Dancon March – a taxing 25km march in five hours. Another Pakistani officer, Major Sadia, is a proud member of the UN Integrated Training Team for the last two years.

Similarly, other female officers have also excelled with 39 trained in the Centre for International Peace and Stability (CIPS) – established by Pakistan to share its experience and promote best practices in peacekeeping – and 23 female attaining the requisite training in other international institutions of repute.

Earlier this month, members of the first-ever Pakistani Female Engagement Team (FET), deployed with the United Nations Organisation Stabilisation Mission in the Democratic Republic of Congo (MONUSCO), were awarded the UN Medal at a ceremony in Adikivu in South Kivu.

This team of 15 female officers, who serve at the ranks of Major and Captain, was stationed there in June last year, marked by the raising of Pakistan's flag at the mission.

The officers include psychologists, stress counsellors, vocational training officers, gender advisors, doctors, nurses, operations officers, information officers and logistics officers.






The MONUSCO peacekeeping mission said in a press release that another 17 female officers will join them this month.

Following this achievement, top United States diplomat Alice Wells said she was inspired by Pakistani women serving in the United Nations peacekeeping mission in Congo.

The US diplomat also took to social media and lauded the Pakistani women for serving with "distinction" in the Democratic Republic of Congo.

UN secretary-general to arrive on four-day visit

United Nations Secretary-General (UNSG) Antonio Guterres will be visiting Pakistan from February 16 to 19 during which he will attend an international conference on Afghan refugees and deliver his key note address.

Pakistan, in collaboration with the UNHCR, is organising the international conference to mark the 40-year-long stay of hundreds of thousands of Afghan refugees in the country on February 17 and 18.

The UNSG will also call on President Dr Arif Alvi and Prime Minister Imran Khan, besides holding meeting with Foreign Minister Shah Mehmood Qureshi.