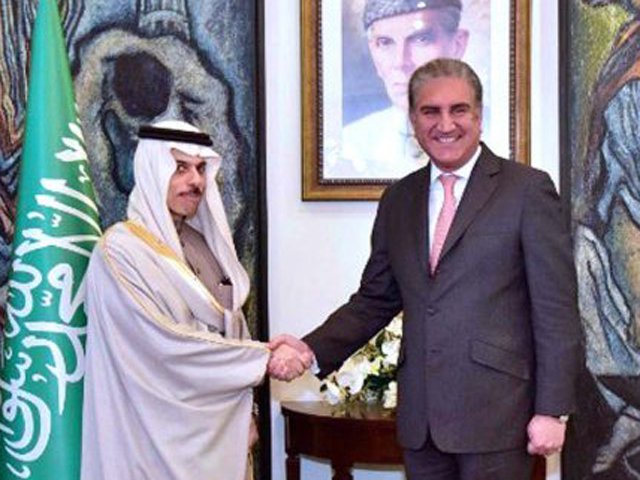 ---
KARACHI: Pakistan and Saudi Arabia have conferred on working together to "advance the Kashmir cause" – including from the platform of the Organisation of Islamic Cooperation (OIC), the Foreign Office spokesperson said on Saturday.

This transpired in a telephone conversation between Foreign Minister Shah Mahmood Qureshi and his Saudi counterpart Faisal bin Farhan. "Views were exchanged on working together to advance the Kashmir cause, including from the OIC platform," Aisha Farooqui said in a statement.

Last August, the Narendra Modi-led Indian government revoked a constitutional provision which gave Occupied Jammu and Kashmir (IOJ&K) limited autonomy in blatant violation of the UN Security Council resolution and in an attempt to make the disputed territory part of India.

The IOJ&K has since been placed under a virtual siege with all local politicians under house arrest and an information blockade in place. Pakistan has raised the issue on all forums – including at the UN and OIC – to shine the global spotlight on Indian atrocities on the people of IOJ&K.

Foreign Minister Qureshi appreciated Saudi Arabia's steadfast support for the Kashmir cause, including as a key member of the OIC Contact Group on Jammu and Kashmir.

Occupied Kashmir, Persian Gulf tensions in focus during Qureshi's UN visit

Pakistan has also launched a Middle East peace mission to deescalate tensions between Iran and the United States and remove mistrust between Iran and Saudi Arabia. The two foreign ministers agreed to maintain close contact on recent regional developments, including US-Iran tensions and President Donald Trump's Middle East peace plan, the Foreign Office spokesperson said.

Tensions spiked between Tehran and Washington since the target killing of Iran's revered military commander Qassem Suleimani in a US drone strike in Baghdad on Jan 3, prompting a retaliatory missile strike by the Islamic Republic against two US military bases in Iraq.

President Trump has also proposed the creation of a Palestinian state with a capital on the outskirts of Jerusalem and termed the proposal "deal of the century". The plan was rejected outright by both Iran and Palestine.

"The two foreign ministers reaffirmed the strategic importance of the Pakistan-Saudi Arabia relationship and reiterated the shared resolve to deepen bilateral cooperation in diverse fields," Aisha Farooqui said.
COMMENTS
Comments are moderated and generally will be posted if they are on-topic and not abusive.
For more information, please see our Comments FAQ