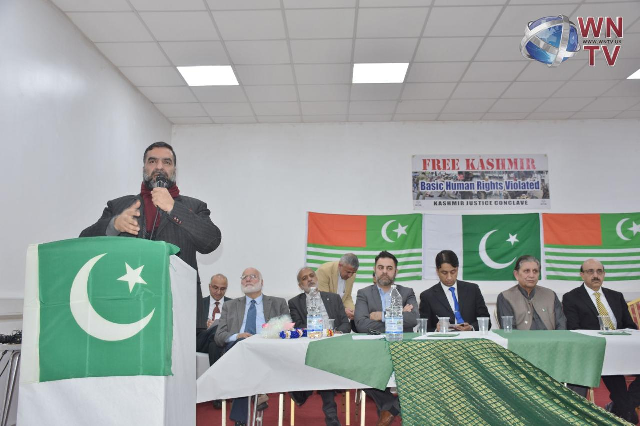 ---
BIRMINGHAM: A conference regarding the human rights violation in occupied Kashmir was held in the UK, where speakers unanimously appealed to the international community to speak up against the barbaric treatment of the Indian armed forces.

The conference was titled 'Free Kashmir and Basic Human Rights Violation Conference' and was held in Coventry Muslim Resource Centre under the Tehreek-e-Kashmir (TeK) leadership.

Azad Jammu and Kashmir President Sardar Masood Khan presided the meeting, along with other officials including senior Hurriyat leader and Chairman Jammu and Kashmir Salvation Movement (JKSM) Altaf Ahmad Bhat, President TeK UK Fahim Kayani and President TeK Europe Muhammad Ghalib.




President Masood said he has a six-point agenda over the developments in Kashmir - for everyone to unite against the atrocities faced by the innocent Kashmiris, for international forums to be used to speak against the Indian government, mobilization of diaspora, using media to expose the barbaric treatment, and for Pakistan and AJ&K to remain steadfast in their struggle.

Twin cities resonate with 'Kashmir will become Pakistan' chants

He further urged British Pakistani's and Kashmiris to expose Indian state terrorism in the occupied valley.

He appealed to the youth to use social media to spread awareness about the torture faced by the Kashmiris. "Our diaspora is an asset and they must collectively raise the current and dangerous situation of IOJ&K with their MPs to get their support against Indian occupation," he said.




Chairman JKSM Bhat lauded such seminars and conferences for spreading awareness and pressurising the international community to speak up against the torture. He said such events should continue on a regular basis.

"Besides UK's Labour Party now Conservatives are listening to our voice to support our genuine political struggle of the right of self-determination," he said.

He further maintained that everyone – including the youth, councillors and other public representatives – should continue to brief the world about India's illegal annexation of the land – snatching their rights of self-determination and silencing the political voice of the innocent civilians.

Celebrities rally support for Kashmir on #KashmirSolidarityDay

President TeK UK Raja Fahim expressed concern over the continuous lockdown and draconian curfew in the occupied valley. He requested the European Union and other world powers to send their teams and fact-finding missions to occupied Kashmir to accurately assess the situation.




"We have reports that India slapped Public Safety Act (PSA) against their loyal pro-India leaders in IOJ&K that is enough to judge the situation that how they will have been treating pro-freedom leaders who are almost in jails," he said.

President TeK Europe Muhammad Ghalib demanded justice for the innocent Kashmiris.

"We Kashmiris living in the UK appeal to our all honourable British Parliament MPs to raise their voice for the besieged Kashmiris who have been locked down by Indian Army since August 5, 2019 and nobody knows what is happening in IOJ&K. We appeal to the UK government to find a permanent solution of IOJ&K aimed at ending the sufferings of Kashmiris."
COMMENTS
Comments are moderated and generally will be posted if they are on-topic and not abusive.
For more information, please see our Comments FAQ