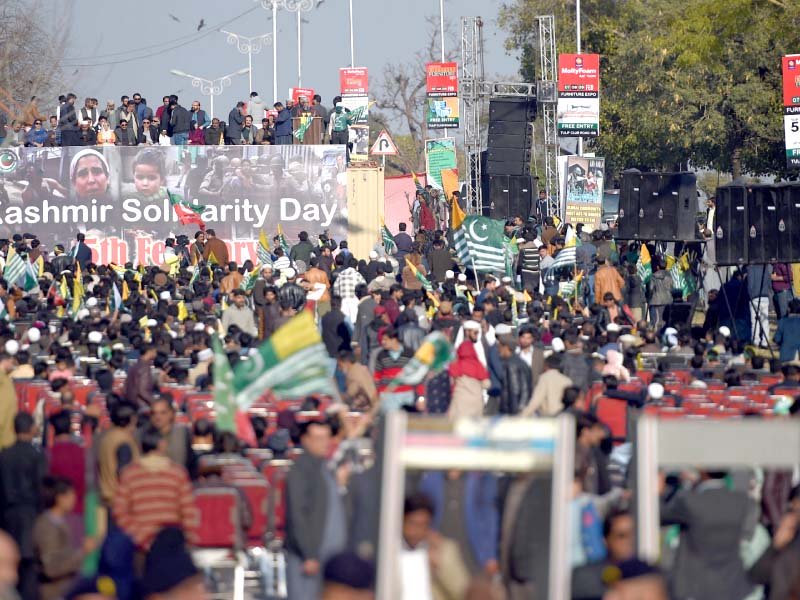 ---
RAWALPINDI/ ISLAMABAD: Kashmir Solidarity Day was marked in the twin cities with scores of rallies denouncing the atrocities committed by Indian forces in the Indian occupied Kashmir (IoK).

People in Islamabad and Rawalpindi, like the rest of the country, marched in solidarity with their Kashmiri brethren who have been under a curfew for 185 days.

The federal capital resonated with the chants of Kashmir will become Pakistan as hundreds of people came out waving Pakistani and Azad Jammu and Kashmir (AJK) flags.

Protesters said that children in Kashmir are longing for food and the people have been barred from accessing hospitals. They added that Indian forces have turned a beautiful valley into a military base. The activists said that the international observer groups, human rights organisations, and media should take notice of the unlivable conditions in the occupied land.

Special Assistant to PM (SAPM) on Information and Broadcasting Dr Firdous Ashiq Awan led a rally of women and children to present a memorandum to United Nations High Commission for Refugees (UNHCR) office.

Pakistani women from all walks of life took part in the rally to express solidarity with their brave sisters and children of IoK and renew the pledge to continue support for the cause of Kashmir till freedom from the Indian yoke.

Addressing the rally, which marched towards the UNHCR office, Firdous said women, including parliamentarians, members of civil society, working journalists and housewives, had gathered here along with their children to express solidarity with the Kashmiri women and children, who were deprived of all fundamental rights including religious, human and constitutional rights.

Later, Firdous presented a memorandum highlighting the oppression of Indian armed forces in the IoK to UN Representative Julien Harneis.

The memorandum emphasised that February 5 was being observed around the world to express solidarity with the people of Jammu and Kashmir.

Failed doctrine

Minister for SAFRON and Narcotics Control Shehryar Khan Afridi addressing a seminar at Rawalpindi Arts Council said that Narendra Modi's Hindu Rashtra doctrine has failed and India will have to surrender to world pressure and vacate IoK.

Afridi said that Prime Minister Imran Khan was leading the awareness campaign at the international level and under a multi-pronged strategy the government was raising Kashmir issue on all international forums which soon would result in freedom for Kashmiris.

"Might-is-right doctrine will not work any longer and India will have to surrender to the world pressure.

Rawalpindi rallies

In the garrison city, different political groups, trade associations and residents, including children and women took out some 50 rallies altogether.

Traders formed human chains by holding hands together to express solidarity with the oppressed Kashmir brethren. The rallies were attended by the activists, public servants, lawmakers and other prominent political and social personalities. The demonstrators gathered at Liaquat Bagh at noon from where they were led by Rawalpindi Deputy Commissioner Anwarul Haq in the form of a rally which culminated at Marrir Chowk.

The demonstrators held placards and banners inscribed with slogans against the Indian government and army as well as Citizen Amendment Act (CAA) Bill and in favour of Kashmir such as "Kashmir Banay Ga Pakistan".

RCCI marks Kashmir Day

The former AJK Prime Minister Sardar Anwar Khan, speaking at the Rawalpindi Chamber of Commerce and Industry (RCCI), said that the hearts of Pakistani people beat with the Kashmiris, adding that a humanitarian crisis would emerge if New Delhi did not stop barbarism in the IoK.

RCCI President Saboor Malik said plebiscite in Kashmir was an incomplete agenda of partition of India. He added that granting the right to self-determination to Kashmiris according to UN resolutions was the only possible solution of the over 70 years old dispute. 

Published in The Express Tribune, February 6th, 2020.
COMMENTS
Comments are moderated and generally will be posted if they are on-topic and not abusive.
For more information, please see our Comments FAQ