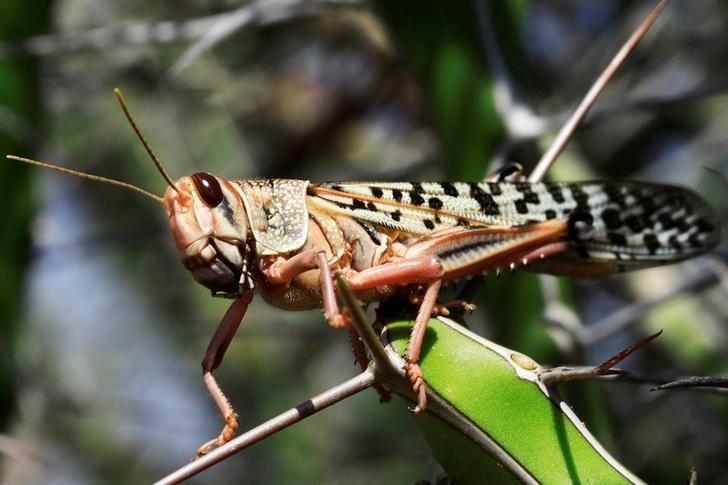 ---
DERA GHAZI KHAN: After causing severe damage and devastation to crops in the coastal area in Balochistan, locusts have flooded the tribal areas of the province.

As per details obtained by The Express Tribune, swarms of locust, spreading from parts of The Middle East, Balochistan and Sindh, have now entered the tribal areas of the province.

Teams from the Agriculture department have started spraying on crops and in affected areas. Severe damage has already occurred on wheat crops and green trees. The swarms continued to enter the region till last night.

Agriculture Extension Deputy Director Maher Abid Hussain explained that the spraying teams have conducted an immediate operation through spraying against the locusts at Mouza Shaf in the tribal area of Koh-e-Suleman. "The existence of locusts groups were reduced by 90 per cent from the area."

The spraying will continue to kill the locust present in the area, he added. "Due to the low temperatures in Balochistan, locusts have turned to Dera Ghazi Khan." The Agriculture Department is working hard to eliminate the locust by spraying, he maintained. "No major attack of locusts on the wheat crop was recorded."

The deputy director advised farmers to not allow locust flags to pass through their fields and prevent it through a loud sound, such as by drumming, during daytime in the crop fields. "At night, locusts do not cause major damage."

Last week, two men died when a single-engine aircraft crashed in Cholistan area near Sadiqabad. According to Rescue 1122 officials, an aircraft busy in spraying pesticides to fight off locust attack in Cholistan crashed in the desert. The aircraft's pilot Shoaib Malik and Engineer Fawad Butt died on the spot. Rescue 1122 teams, police and district administration reached the site of the incident.

Officials confirmed to APP that the pilot and engineer had been martyred when their aircraft apparently due to a technical fault. "Yes, an aircraft fell down and crashed when it was spraying over crops to get rid of locust," they said. The deceased persons were employees of the Plant Protection Department.