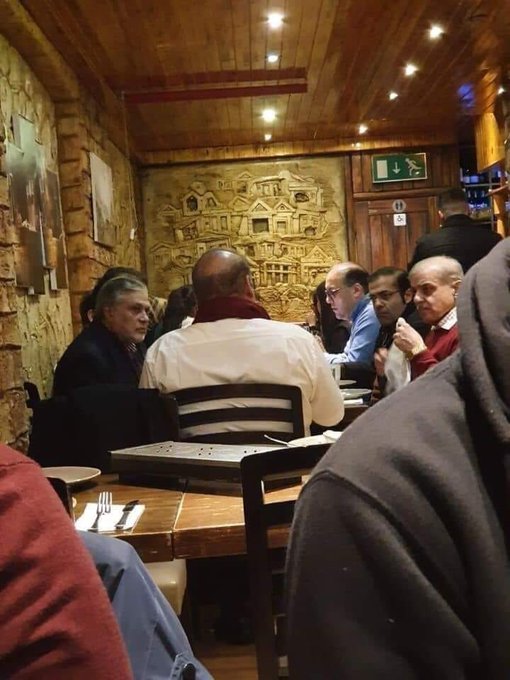 ---
LAHORE: A photo of ailing Nawaz Sharif dining with his family at a London restaurant has provided fodder for skeptical government ministers who questioned on Tuesday if the Sharif family patriarch was really sick or he was feigning illness to avoid prison.

Nawaz Sharif – who has been sentenced to seven years behind bars in a corruption reference – was allowed by the government in November last year to travel abroad on court orders after doctors failed to diagnose his illness and recommended his diagnosis and treatment at some foreign hospital.

He was flown to London in a chartered air ambulance of the Qatar Airways. Some government ministers suspected all along the illness was a ruse to escape jail. Now, the café picture gives credence to their suspicions.

The picture showing Nawaz with his brother, sons and some other family members eating dinner at a London restaurant was shared on social media on Monday and has since gone viral.

Punjab's health minister called up Nawaz's personal physician, Dr Adnan Khan to seek an explanation. "He [Nawaz] is socialising while you say he is in a very critical condition," Dr Yasmeen Rashid recalled telling Dr Khan on Tuesday. "Is this part of his treatment?"

Nawaz's daughter, Maryam Safdar, who is facing a travel ban over a pending corruption inquiry, has also sought permission to fly to London to see her ailing father.  Dr Yasmeen took a jibe at Maryam over her request. "Where will she take care of him? At a restaurant? You take care of a bed-ridden person, which he [Nawaz] is not," she said.

Dr Yasmeen said a letter sent by Nawaz's British physician, David R. Lawrence, was "very similar" to a summary earlier issued by the government regarding the former three-time prime minister's health. "There appears to be no progress in his treatment," she told the media.

She said that based on a medical board report the government believes the "documents provided are not sufficient to form a conclusive opinion" about Nawaz's health. And this was conveyed to the Sharif family patriarch by the Punjab home department in a letter on Monday.

"The most recent laboratory and imaging reports have to be sought from your doctor," the letter stated. Dr Yasmeen has conveyed the same verbally in her telephone conversion with Dr Khan.

"You are required to provide the latest medical report within 48 hours as it has been stated in media reports that you seem to be in good health and socialising too," reads the home department letter addressed to Nawaz.

Dr Khan, meanwhile, said in a Twitter post that the latest medical reports have already been shared with the government. "Former PM #NawazSharif's LATEST medical report along with copies of Rubidium Cardiac PET-CT Scan, Echocardiogram & Holter Analysis were submitted this morning at 06:37 AM London, UK (GMT) to the Government authorities & sent directly to the concerned Minister & officials as well," he wrote on the microblogging site.

Marriyum Aurangzeb, a spokesperson of Nawaz's PML-N party, angrily reacted to the health minister's media talk. "Yasmeen Rashid held [the] press conference based on lies under pressure from Imran sahib," she said in a statement while referring to the prime minister. "What was the point of staging a political spectacle?"

Marriyum said the health minister "should better travel to London" if she wanted to check on Nawaz's health.

She said Nawaz's health reports were being sent to the Punjab government and the court regularly as per judicial orders. She urged the prime minister to "focus on public health as Nawaz Sharif's health is in safe hands".

The social media-savvy minister for science and technology was the first to mock the Sharif family after the restaurant photo surfaced on social networking sites.

"Scene from a meeting taking place at the Intensive Care Unit of hospital … treatment of 'eat and drink' disease in full swing and all patients are already feeling better," Chaudhry Fawad Chaudhry quipped in a Twitter post.

Nawaz's son said the family had taken out his father for a walk on the advice of doctors. "This is also part of the treatment," Hussain Nawaz journalists in London.

"He has been confined to his apartment since he came here two months ago. He has been receiving treatment all this time, while doctors repeatedly advised him to go for brief walks," Hussain said.

He was reluctant to leave the apartment because a few steps would leave him gasping for air, according to his son. But on Sunday he acquiesced after the family insisted he join them on walk and at dinner. Hussain regretted the government ministers politicised the matter.
COMMENTS
Comments are moderated and generally will be posted if they are on-topic and not abusive.
For more information, please see our Comments FAQ