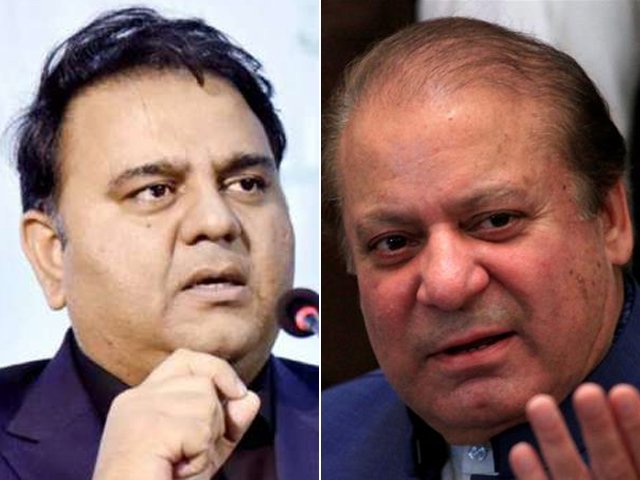 ---
Federal Minister for Science and Technology Fawad Chaudhry has launched a fresh verbal attack on former prime minister Nawaz Sharif by sharing a photo of him "enjoying a meal party" along with Shehbaz Sharif and other family members at a restaurant in London.

"Views of a meeting taking place at intensive care unit (ICU) of hospital … the treatment of 'eat and drink' disease in full swing and all patients are already feeling better," the Pakistan Tehreek-e-Insaf (PTI) leader quipped in a Twitter post.


لندن کے ھسپتال کے انتہائ نگہداشت یونٹ میں ہونیوالی ملاقات کے مناظر۔۔۔ کھاؤ پیو بیماری کا علاج انتہائ انہماک سے جاری ہے اور سارے مریض بہتر محسوس کر رہے ہیں۔ pic.twitter.com/pl6Z2hlXw6

— Ch Fawad Hussain (@fawadchaudhry) January 13, 2020


Ishaq Dar, who's the father-in-law of Nawaz's daughter, Shehbaz's son Sulaiman Shehbaz and Nawaz's eldest son Hassan can also be seen in the photo.

Prime Minister Imran Khan has reportedly taken notice of the development, asking for an update on the health of the former premier from Punjab Health Minister Dr Yasmeen Rashid.

PML-N leader Hina Parvez Butt reacted on the report, saying, "Pakistan's economic situation would have been much better if Niazi (PM Imran) had taken notice of the country's rising inflation and unemployment that swiftly".


جتنی جلدی نوٹس نیازی نے نواز شریف کی تصویر کا لیا ہے، اگر اتنی ہی جلدی نوٹس آسمان کو چھوتی ہوئی مہنگائی، بے روزگاری اور معیشت کی تباہی کا لیا ہوتا تو شاید پاکستان کے حالات آج کچھ بہتر ہوتے اور لوگ خودکشیاں کرنے پر مجبور نہ ہوتے۔۔۔

— Hina Parvez Butt (@hinaparvezbutt) January 13, 2020


Nawaz's son Hussain later clarified that his father was taken out for a walk and dinner with family members on the advice of doctors.

"This is also part of the treatment," he told reporters.


Hussain Nawaz says Nawaz Sharif went out for walk and dinner with family members on advise of doctors pic.twitter.com/wSwjmWyGyW

— Murtaza Ali Shah (@MurtazaViews) January 13, 2020


Nawaz had left for London on November 19, 2019 in an air ambulance to seek medical treatment, a month after he was released on bail from a seven-year prison sentence for corruption. He was in the custody of National Accountability Bureau (NAB), when a sharp and radical drop in his platelet count from over 75,000 to just about 2,000 within 24 hours worried doctors.

Doctors in the UK have confirmed that the former prime minister is suffering from multiple and aggravated ailments and might require toxicology screening if cause of his unstable platelet count is not ascertained soon.

Nawaz's body language betrayed his illness: PM

PTI leaders including PM Imran however, have, multiple times, cast doubts over seriousness of Nawaz's illness.

Days after his departure, PM Imran said "the body language of Nawaz Sharif betrayed his medical condition", which his Pakistani doctors claimed was "very critical".

"Contrary to his medical reports which reportedly suggested his heart, lungs and platelets were in a critical condition, he suddenly seems to be in good health as he boarded the plane for London," Premier Imran had said while speaking at a ceremony in Mianwali last year.

Nawaz, 69, was shifted to Lahore's Services hospital in October after his health condition deteriorated. Doctors then recommended him to get a treatment abroad.

The government had allowed Nawaz's travel for medical reasons but put the condition that he submit an indemnity bond of Rs7-7.5 billion as a guarantee that he would return to the country after getting treatment. Nawaz, however, rejected the condition.

He was then granted bail by the Islamabad High Court on humanitarian grounds in Al Azizia case and by the Lahore High Court in the ongoing Chaudhry Sugar Mills case, in which he is a suspect.

In November, he was finally allowed by the LHC to travel abroad for treatment without any bond.