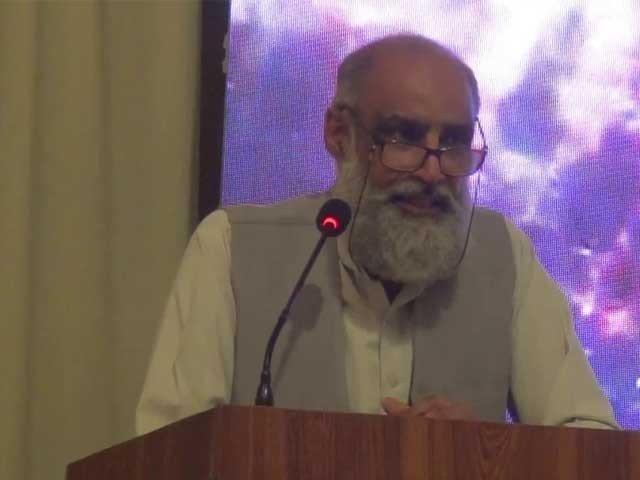 ---
ISLAMABAD: The Supreme Court on Monday directed the federal government to present Colonel (retd) Inamur Rahim, an advocate working for the recovery of missing persons, in court.



A three-judge bench comprising Justice Mushir Alam, Justice Mazhar Alam Khan Miankhel and Justice Syed Mansoor Ali Shah heard a petition filed by the Pakistan Tehreek-e-Insaf government against the Lahore High Court's (LHC) order declaring Rahim's detention illegal and directing law enforcement agencies to release him immediately.

"The detention of Mr Inamur Rahim advocate with military authorities is declared illegal and unlawful. He shall be released forthwith," read the LHC order.

The federal government had then challenged the ruling in the top court.

Today's proceedings

Filed on behalf of the defence and interior secretaries by Additional Attorney General Sajid Ilyas Bhatti, the appeal seeks suspension of the LHC order till the matter has been decided by the apex court.

Noting that the high court has not issued a detailed verdict yet, Justice Alam remarked that the federal government should wait until the full judgment was dispensed.

Attorney General of Pakistan Anwar Mansoor Khan argued that the apex court suspends the LHC order until the top court decided on the petition.

Khan further requested an in-chamber proceedings citing "matters related to national security" and presented a sealed envelope enclosed with a report of Rahim's arrest to the bench.

Justice Alam remarked that the bench did not have objections but the federal government first needed to provide arguments to back their request.

The bench sought documents pertaining to national security, asserting that they will not be made public. Justice Shah also remarked that the apex court wished to see what pertained as matters of national security.

Supreme Court Bar President Qal Hassan informed the bench during the hearing that the detained retired colonel was not allowed to meet his family.

Directing the federal government to present Rahim before the apex court on Tuesday, the bench sought a written response that should detail the reason why the issue was of "national security" and explain why the advocate was detained.

The hearing has been adjourned till Tuesday.