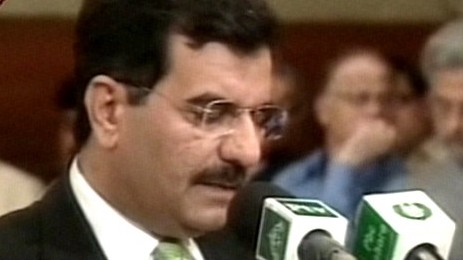 ---
Punjab Assembly session for the presentation of the provincial budget for 2010-11 took place on Monday. The budget was presented by Punjab Finance Minister Tanveer Ashraf Kaira.

The total volume of the budget set for next year is Rs583.64 billion. The finance minister said that education, public health and agriculture will be the top priority of the government.

Kaira said that the development budget would be Rs193 billion, which is the largest ever spent by any province in Pakistan.

End of live updates

05:18 pm

Kaira says the government will provide subsidy worth Rs2 billion for the solar powered water pumps. Livestock is a very important sector of economy. Rs2 billion will be spent to improve the livestock sector.

The finance minister says the government has decided to explore the possibility of solar energy to run tube wells.

05:16 pm

Kaira says the government will spend Rs2 billion to improve the areas affected by saline water.

Kaira says clean drinking water is an important ingredient for healthy life. The Punjab government is well aware of this factor. The government will spend Rs9.5 billion on the sewerage system.

Kaira says all patients in the government hospitals will get free medicines.

05:12 pm

Kaira says health is a very important sector. New medical colleges will be established in Dera Ghazi Khan, Sialkot and Sahiwal.

Kaira says more than 800 primary schools will be upgraded by spending Rs4 billion. Likewise, 200 middle schools wil be upgraded by spending Rs2 billion. Rs4 billion will be spent for missing facilities in schools. Rs6 billion have been allocated to improve colleges in the province. Post graduate classes will start in all districts.

The finance minister says Rs23.3 billion will be spent on the improvement of education sector. Rs1 billion has been allocated for science labs in schools.

05:08 pm

Kaira says the development fund will be used to alleviate poverty. Provision of maximum funds to education and health, improvement of infrastructure will be made. In development projects participation of women will be a top priority of government.

Kaira says the volume of development funds will be more than Rs 19.3 billion.

05:06 pm

Kaira says expected revenue will be more than Rs 5 billion. Tax revenue will be more than Rs 9 billion. Revenue expected in the next fiscal year is 30 per cent more than the previous fiscal year.

05:04pm

Kaira says all the cabinet members have voluntarily decreased their salaries by 25 per cent. Cabinet members have also decided that they will reduce office expenditures by 25 per cent.

Members break into applause.

Kaira says the government has made comprehensive plans to cut down expenditures. It was decided that luxury cars and other items should not be purchased. The chief minister has reduced the budget of CM secretariat by 25 per cent.

Kaira says agricultural land will be distributed in more than 40,000 families. Land currently not in use will be auctioned and money generated will be used for development funds. It will be ensured that this process is transparent and the money is used only for development.

Kaira says solid waste has become a big challenge. The government has decided to cope with this problem by making special arrangements. This system will be established with the help of Turkish experts.

04:59pm

Kaira says agriculture and veterinary graduates will get 25 acre land on 15 years' lease.

Kaira says unemployment is seriously affecting youth in the province. The government has decided to establish Punjab youth fund to provide honorable jobs to the youth.

Members continue to chant slogans around the room.

04:57pm

The finance minister says the Punjab government will establish a cardiac center in quetta as a goodwill gesture at the cost of Rs 2 billion.

Kaira says Rs330 million have been allocated for control of hepatitis in the province. The government has decided to establish kidney and liver transplant centres in the province.

04:54 pm

Kaira says seats in engineering universities will be increased and in medical colleges as well. Medical collages seats increased by 452 slots. Through this we will be get more than 1000 additional doctors per year.

He says healthcare is also one of top priorities of government. Rs6 b have been alloted for the provision of medicine to patients in govt hospitals. Rs 1.2 billion will be spent on government hospitals at district and tehsil level.

Kaira says for DHQ hospitals in sargodha and faisalabad, funds have been released by the government.

04:50pm

Kaira says in current fiscal year textbooks worth Rs 1.8 billion were distributed among students. The govrnment will continue this scheme for the incoming year.

He says the goverment has provided IT labs in schools by spending Rs 4.9 billion.

Kaira says Rs 160 million will be allocated for students.

The finance minister says so far Rs4 billion have been provided under the Punjab endowment fund for the poor and deserving students. This year Rs 2 billion will be added to this fund. This fund will gradually increase to Rs 10 billion.

04:47pm

Kaira says education has always played an important part in the progress of a country. The Punjab government is paying due attention to this factor. It has taken practical steps to support and provide higher education to deserving students.

Kaira says Rs250 million seed money has already been provided to the concerned departments for construction of houses.

Kaira says the Punjab government has decided to provide cheap housing to the poor.

04:43 pm

The minister says provision of cheap flour during ramzan and subsidy on flour are a few steps to help the poor. All welfare schemes already in vogue will continue. Allocation for welfare schemes will be increased to Rs21 billion.

Kaira says the federal government will pay Rs502 billion in the next three years.

04:41pm

Kaira says the Punjab government has increased the budget by 13 per cent for the police. To fight against terrorism, resources of punjab police have been increased.

Kaira says education, public health and agriculture will be the top priority of the government.

04:38pm

The finance minister says the NFC award has proved that only democratic governments can solve difficult problems faced by the economy.

The opposition starts walking out during budget session.

Kaira says Punjab will get Rs51 billion and Rs 47 billion additional in finances.

04:35pm

Kaira says the signing of NFC award was unique and historic.

Kaira says despite all cooperation, punjab has always been criticised by other provinces, but during the NFC awards Punjab played the role od critics and the province extended special support to Balochistan. Punjab helped smaller provinces from its share of finances.

04:31pm

Kaira says the GDP grew from 1.25% to 4.25% in the last year.

Earlier

Rs570 billion budget will be presented in the assembly whereas Punjab government has decided to cut salaries of ministers by 25 per cent.

A conference was held in the chief minister's secretariat in Lahore in this connection.

Addressing the conference, Punjab Chief Minister Shahbaz Sharif said corruption and exploitation of national assets will not be tolerated anymore. He said the Bank of Punjab has been robbed of Rs30-50 billion instead of Rs10 billion.

Sharif said loans worth billions of rupees had been acquired during the last 63 years. He also said the country is drowning in foreign debt.

Correction: June14, 2010

Due to a transcription error, an earlier version of this article misstated the Rs193 billion development budget, as Rs19.3 billion.
COMMENTS (1)
Comments are moderated and generally will be posted if they are on-topic and not abusive.
For more information, please see our Comments FAQ