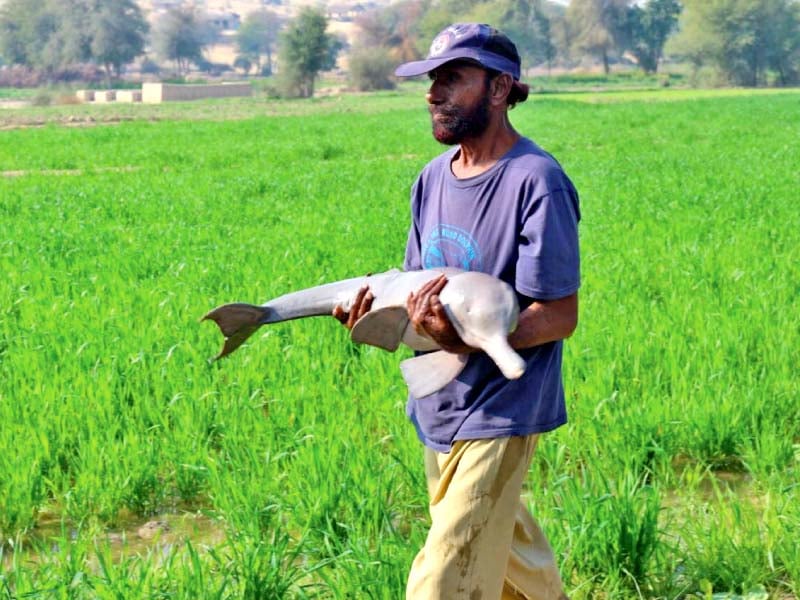 ---
KARACHI: A baby Indus dolphin stranded in a small canal about 217 kilometres from the Sukkur Barrage was finally rescued and safely released back to its habitat after tough rescue efforts that lasted three days.

Officials of the Sindh Wildlife Department (SWD) posted at the Indus Dolphin Conservation Unit were informed on Thursday that a baby dolphin had been spotted in a canal in Khairpur. The rescue team, led by Sukkur Deputy Conservator Adnan Ahmed Khan, started a search operation but was unable to find the stranded blind dolphin.

Javed Ahmed Mahar, the provincial conservator of the SWD, told The Express Tribune that the operation was halted after sunset on Friday. "It was a very difficult task to find the baby dolphin," he said. "Our team almost lost its way despite vigorous search efforts." By Friday evening, the rescue team had lost hope of finding the rare mammal alive. However, local villagers informed them that they had found it in a small water course.

Rescue 1122 begins final exercise for international accreditation

"A villager called us to say he had found the dolphin," Khan told The Express Tribune. "We rushed to the spot and found it surfacing in a waterway barely a foot deep."

The final step, of getting the dolphin back to its habitat of the Sukkur Barrage, was a challenge for the SWD as well. "It was a nerve-wracking task," said Mahar, expressing his appreciation for the team that was able to successfully rescue and release it back to its habitat. "There was every possibility of mortality of this little creature endemic to Pakistan."

The rescued dolphin was reportedly transported back to the barrage via a car because the SWD rescue ambulance was in a pitiful condition. The journey took a little over two hours, during which the rescue team kept the mammal alive by repeatedly drenching it in water.

PM Imran puts off Karachi rescue mission

Such rescue operations usually call for the swiftest means of transportation to keep the dolphins alive out of water, such as helicopters or fast vehicles. However, the SWD has very limited resources and staff, according to sources.

Bangul Khan Mahar, the special assistant to the provincial wildlife minister, announced cash rewards for the rescue team for rescuing the dolphin.

The Indus blind dolphin is one of the rarest mammals in the world, found only in some parts of the Indus River. Only around 1,800 of them are alive today, according to the World Wildlife Fund. 

Published in The Express Tribune, December 22nd, 2019.