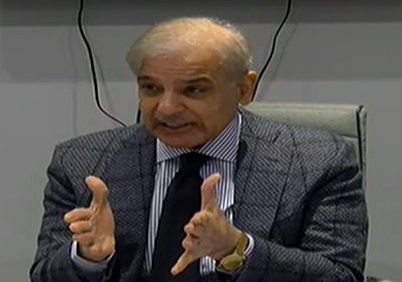 ---
ISLAMABAD: [fbvideo link="https://www.facebook.com/etribune/videos/429968871005492/"][/fbvideo]

PML-N President Shehbaz Sharif has said that the "NAB-Niazi nexus" has been defeated after the national graft-buster withdrew its challenge to his bail plea in a corruption reference involving a housing scam.

Speaking at a news conference in London on Wednesday, Shehbaz alleged that the same "nexus" was behind the freeze of his and his family's assets.

The presser came a day after NAB ordered freeze of assets owned by Shehbaz and his sons — Hamza and Salman — in different cities, citing corruption charges against the family.

Interestingly, the same day, the corruption watchdog withdrew a petition against the grant of bail by the Supreme Court to Shehbaz in the Ashiana-e-Iqbal Housing scheme scam.

"The government has become vindictive to escape humiliation after its failure to deliver," he alleged during the presser which was shown live on Pakistani television news channels.

"I've never seen a bigger liar than Imran Niazi in my life. He's an egoistic, ungrateful, vengeful, and spiteful person … his [Imran Khan's] government is divisive but yet we [opposition parties] stand united."

Shehbaz said he stood vindicated after the apex court observations in the Ashiana housing scam. "It seems that Shehbaz's role is of a 'good kid' who initiated an investigation into this matter and later forwarded it to the anti-corruption department," Chief Justice Asif Saeed Khosa remarked while hearing the petition on Tuesday.

Shehbaz said that when PTI's attorney Naeem Bokhari realised that things were going against him, he voluntarily withdrew the challenge against his bail.

"Imran Khan Niazi and his ministers have been making a malicious propaganda for one and a half year, spewing venom against us," he added. "But the remarks of the honourable bench, especially of the chief justice, have separated the truth from the lies."

Shehbaz, who is also leader of the opposition in the National Assembly, claimed that he had declared all his assets to the Election Commission of Pakistan and the Federal Board of Revenue. "I will quit politics for good if corruption is established against me and my sons," he challenged.

He claimed that the graft-buster could not establish financial corruption against him despite keeping him in a "torture cell". "I was summoned to the court for a hearing of the Safe Pani case but was taken into custody in the Ashiana housing case," he said.

However, I was bailed out in February in both cases on merit. "One by one, innocence of Nawaz Sharif and his team is being established," he said while referring to his brother and former prime minister who is currently receiving medical treatment in a London hospital.

He hoped that Nawaz Sharif, who has been sentenced to seven-year jail term in a corruption reference, would also be vindicated. He credited Nawaz with steering the country out of crises and carrying out record development projects in the country during his three incomplete stints in office.

Calling Prime Minister Imran "master of U-turns", Shehbaz taunted him for his unfulfilled promises. "Where are five million houses and 10 million jobs? … Not a single house has been built in one and a half year," he said. "Instead, thousands of people have become jobless."

Opposition parties have been predicting the ouster of Premier Imran who, the claim, has plunged the country into economic morass with his "ill-conceived policies".

"The sooner an in-house change takes place in the National Assembly the better it would be for the nation," Shehbaz said. "Imran Khan has destroyed the economy, and the country cannot afford to have him at the helm any longer," he added.
COMMENTS
Comments are moderated and generally will be posted if they are on-topic and not abusive.
For more information, please see our Comments FAQ