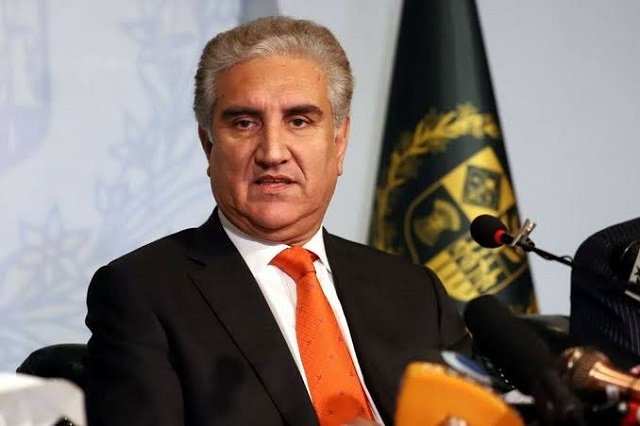 ---
ISLAMABAD: Foreign Minister Shah Mehmood Qureshi on Sunday arrived in Colombo to extend a formal invitation to the newly-elected Sri Lankan president to visit Pakistan on behalf of President Arif Alvi and Prime Minister Imran Khan, officials here said.

"Qureshi will not only meet his Sri Lankan counterpart but also call on President Gotabaya Rajapaksa and Prime Minister Mahinda Rajapaksa today (Monday)," officials added.

Although, a statement issued by the Foreign Office did not say, but The Express Tribune has learnt through diplomatic sources that the main purpose of Qureshi's visit was to extend a formal invitation to the Sri Lankan president to visit Islamabad.

Gotabaya was the former Sri Lankan defence secretary and considered close to Pakistan because as any army officer, he was trained in Pakistan. Also as defence secretary, he oversaw the end of 26-year-long Tamil militancy a few years ago. Pakistan was instrumental in helping Sri Lanka to defeat Tamils.

Rajapaksa's victory a setback for India but good for Pakistan

Gotabaya's victory was seen as a blow to Indian and western countries which were backing his political rival Sajith Premadasa to win the polls. The reason India was upset with Rajapaksa's victory was that he was pro-China and close to Pakistan.

In 2015, Gotabaya's brother Mahinda Rajapaksa accused Indian RAW and certain western powers of defeating him in the presidential elections. Mahinda remained Sri Lankan president from 2005 to 2015. He now returned to power but as the prime minister, meaning Rajapaksa's family took full control.

Sensing the situation, India is now trying to mend fences with the Rajapaksa family. The day Gotabaya won the polls, India dispatched its foreign minister to Sri Lanka to invite the new president. Last week, Gotabaya visited New Delhi and met Prime Minister Narendra Modi.

In an interview with the Indian newspaper, Gotabaya said the main concern of India was his close ties with China and Pakistan. He, however, added that India "need not to worry about his relationship with Beijing and Islamabad".

Diplomatic sources said the Modi government announced certain investment projects in Sri Lanka in an effort to woo the new president.

Observers, however, were of the view that Modi's belated overtures were unlikely to make any difference since the trust deficit between the Rajapaksa family and India was not going to be bridged so soon.

For Pakistan, Gotabaya's election is a positive development since the previous government was pro-India.

Meanwhile, Foreign Minister Qureshi, soon after arriving in Colombo, told reporters that he came here with a special message from the Pakistani president and PM for the Sri Lankan leadership.

He said he would deliver letters written by the Pakistani president and the PM for their Sri Lankan counterpart.

Although, he did not say but the letters were carrying formal invitation to the Sri Lankan president to visit Pakistan.

Earlier, a statement issued by the Foreign Office said, "Pakistan and Sri Lanka enjoy close, cordial ties based on mutual trust and understanding.

"The bilateral relationship is broad-based and multifaceted, covering diverse fields, including political, trade, commercial, defence, people-to-people contacts, and cultural exchanges. High-level visits are a regular feature of Pakistan-Sri Lanka relations."
COMMENTS
Comments are moderated and generally will be posted if they are on-topic and not abusive.
For more information, please see our Comments FAQ