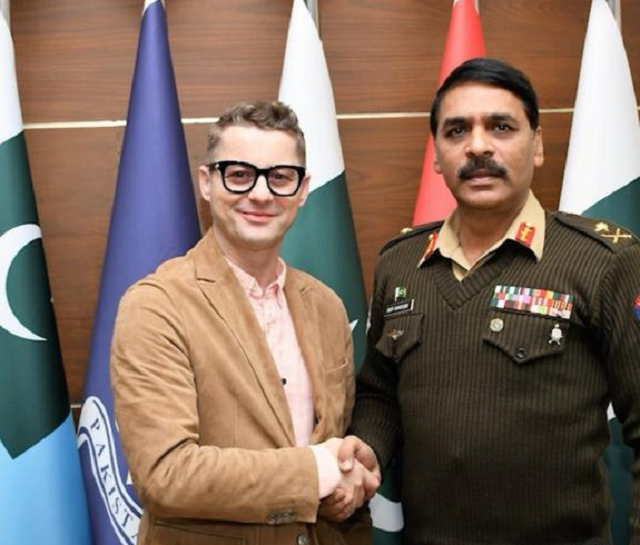 ---
Romanian music artist Akcent (Adrian Sina) on Tuesday had 'fantastic tea' with Director General Inter-Services Public Relations (DG ISPR) Asif Ghafoor in Rawalpindi.

After announcing that his band will be playing in Lahore on November 24, 2019, at the Governor House, the singer earlier shared he would love to have a fantastic cup of tea with Maj Gen Asif Ghafoor. DG ISPR responded to his tweet inviting the singer to the office. "A fantastic cup of tea is scheduled in my office," he said.

Akcent posted a video to Twitter on Monday where he is seen sipping a cup of tea and "discovers once again that Pakistani tea is fantastic".

The musician can be seen standing in front of a board of Pakistan's victories including a picture of the captured Indian Air Force (IAF) Wing Commander Abhinandan Varthaman.

The Romanian star expressed his gratitude for the opportunity to travel from Romania to Pakistan to meet General Asif Ghafoor.

Akcent receives a 'Tea Invite' by DG ISPR after announcing performance in Pakistan

"Hello, I am Adrian Sina from Akcent. I am so happy that I have had the chance to travel a long way, from Bucharest, where I live, to Pakistan, to meet the general," he said.

Met @officialDGISPR Pakistani tea is Fantastic ☕ pic.twitter.com/S07q6idnxz

— Akcent (@akcentofficial) November 25, 2019

In September, the Romanian singer took to social media to wish Pakistanis on the occasion of Defence Day, while taking a slight dig at India. He posted a picture of himself, with a caption, "Happy Defence Day Pakistan and the tea was fantastic."

Akcent was referring to a famous line spoken by the Indian Air Force pilot, who was captured by the Pakistani army. In a video that went viral on social media, Abhinandan could be heard praising Pakistan Army officials as 'thorough gentlemen'.

"I have [been treated well] and I would like to put that on record … I will not change my statement if I go back to my country," he said in the clip. He was then asked if he was treated with respect, to which he responded, "The tea is fantastic."


COMMENTS
Comments are moderated and generally will be posted if they are on-topic and not abusive.
For more information, please see our Comments FAQ