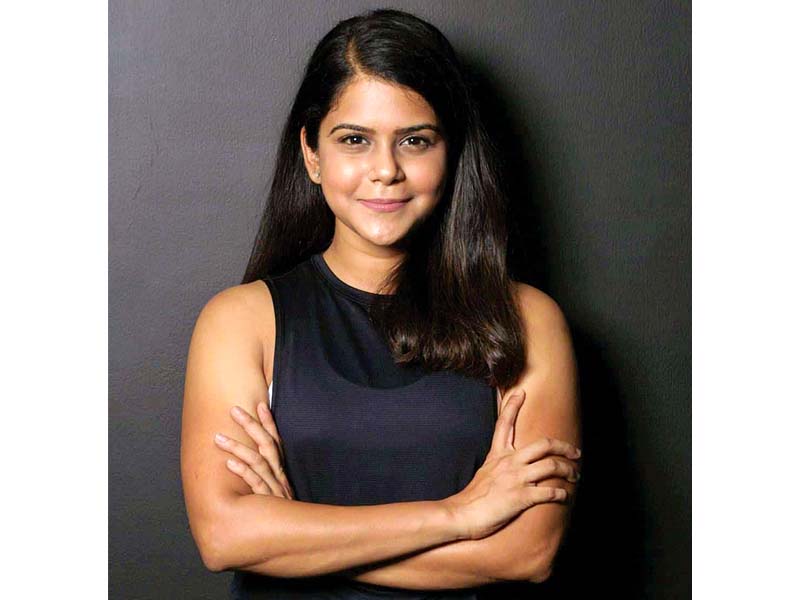 ---
Aamina Siddiqui, a personal trainer at Kore Fitness spills the beans about quitting her 9-5 corporate job and following her true calling, the food items she can't go a day without and so much more!


How would you describe your fitness philosophy?

Every individual is unique and needs to be treated and celebrated as such. What works for one person may not work for another. Everyone comes in with their bio-individuality, their unique goals, their lifestyle preferences, their level of commitment and their own wonderful stories. Fitness is not and can never be a one-size-fits-all solution, but there is so much to do within the fitness sphere that there is literally something for everyone. So my philosophy is to just start with what you enjoy and gradually build up habits over time.

What inspired you to join the fitness industry?

I started strength training a few years ago and it completely changed my life – my physical health became better, my sleep became stabilised, my stress levels reduced, my relationship with food improved and I became a happier person overall. As a woman, it made me feel stronger and more independent – inside and out! I joined the industry because I experienced the benefits of a healthy lifestyle first-hand and wanted to directly contribute to improving other peoples' lives as well.




Are you personally a fan of gym classes or personal training?

I believe both of them have their respective merits but for me, personal training offers way more individual attention and is thus a better approach to reach personal goals.  A good personal trainer becomes your friend, confidante, therapist, everything – someone who can really change your life!

Three things in your diet you can't go a day without?

Black coffee, eggs and dark chocolate – (yes, it's possible to have chocolate every single day and still achieve your goals!)

What's your typical day like?

I wake up for morning prayers, have breakfast and head to the gym for my AM personal training clients. After my clients, I get my main workout session in for the day. After this, I go home to eat, rest and recover. While at home, I listen to podcasts, read or work on a few side projects. Around 5pm I go back to the gym for a shorter workout session and my PM clients. I finish the day with dinner followed by a 30 minute walk on my roof.




What is the most effective exercise according to you?

I don't believe that there is just one effective exercise – instead there are effective movements namely Squat, Hip Hunge, Push and Pull. Within these movements, there are tons and tons of different exercises one can do. For me personally, I like to focus on a body-building style plan with some added functional and endurance work.

Favourite foods to eat on a cheat day?

I don't believe in the cheat day philosophy for myself! I like to enjoy my food on a daily basis while making sure that I am managing my calories and nutrient intake over a period of time. Burgers are my absolute favourite food though – very difficult for me to resist a good burger.

Advice you'd give to people looking to attain a healthier lifestyle?

Just start. Start somewhere, anywhere. Go for a walk. Get your medical tests done. Eat slowly. Sleep 30 minutes earlier than usual. Add more fruits and vegetables to your diet. Just start anywhere and slowly build up your habits. There's no need to do everything all at once. One action will motivate the next.

What are some common fitness misconceptions/questions asked by your clients?

There's just too many to name but I think the most common misconceptions are – "Lifting weights makes women bulky", "You can spot reduced fat" and "Carbs are bad and make you gain weight." God, how my ears bleed when I hear any of these!




Which celebrity would you like to train and why?

Any power-house woman who wants to get stronger inside and out - and can influence other women to do the same!

How is your fitness mantra different from others?

I actually think that a lot of amazing people are joining the industry now who all believe that the key to progress is working hard towards a goal and doing it consistently and patiently. Personally, I am not a fan of the "quick-fix" programmes and challenges but different things work for different people.

Something you enjoy doing when you're not working?

Recovering and getting in some me-time – this usually takes the form of a nap, a movie, a massage or a drive.

A saying or quote that keeps you going?

"Discipline is choosing between what you want now and what you want most." Lincoln

When it comes to eating healthy what are your top recommendations?

Eat slowly and mindfully, eat whole, unprocessed foods and enjoy your food! A good relationship with food is an absolute game-changer. The food you consume is your way to communicate with your body so be good and kind with yourself!