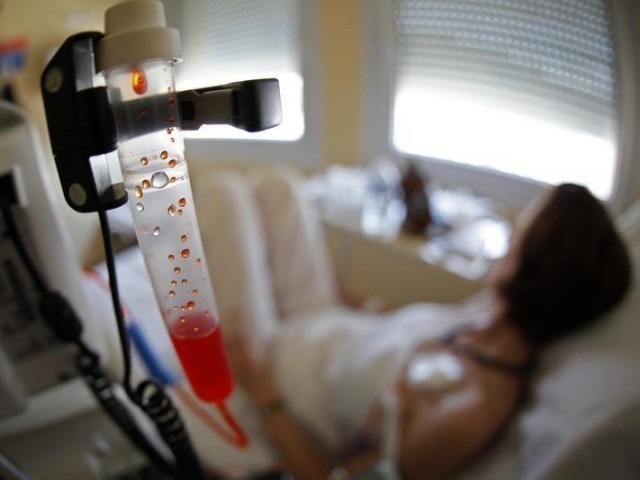 ---
KARACHI: A report submitted by Sindh Chief Secretary Syed Mumtaz Ali Shah to the Sindh High Court sheds light on the deplorable condition of health facilities in the province, stating that hospitals located in rural Sindh's urban centres lack the capacity to treat cancer.

The report largely focuses on oral cancer cases, mainly caused as a consequence of gutka and mainpuri consumption, reported in Sindh in 2018.

According to the report, of the 489 cancer patients brought to Chandka Medical College Hospital in Larkana, in 2018, five suffered from oral cancer. Similarly, out of the total 37,900 cancer cases reported at Jinnah Postgraduate Medical Centre in the same year, 2,213 were of oral cancer. The report states that 2,088 cancer cases were reported at Larkana's Lines Hospital and none at Ghulam Muhammad Mahar Medical College Hospital in Sukkur.

Referring to the lack of cancer treatment facilities at Civil Hospital, Khairpur, the report elaborates that all cancer patients brought to the hospital had to be referred elsewhere.

'600-bed mother and child hospital on the cards'

As per the report, as many as 338 cases of oral cancer were reported at Civil Hospital, Larkana in 2018, and another 231 at Karachi's Baitul Sukoon Cancer Hospital, which received a total of 2,816 cancer patients in the given year. As many as 270 cancer patients were referred to Rahat Kada Hospital in the same year and of these, 60 were diagnosed with oral cancer.

Meanwhile, 302 cancer cases, including 110 of oral cancer, were reported at Al Mehrab Medical Aid Centre.

The report further states that 5,247 cancer cases were reported at Karachi's Kiran Hospital in 2018, of which 1,202 pertained to oral cancer. As many as 1,673 cancer cases, including 268 of oral cancer, were reported at Norin Cancer Hospital in Shaheed Benazirabad District and of the total 1,710 cancer cases reported at Nimra Cancer Hospital in Jamshoro, 224 were of oral cancer. Cancer cases reported at Dr Ziauddin Hospital in 2018 added up to 1,473, of which 352 were of oral cancer. Aga Khan University Hospital received 4,060 cancer patients in the same year, of whom 568 suffered from oral cancer. Similarly, 18,036 cancer cases were reported at the Sindh Institute of Urology and Transplantation, 15,889, including 202 of oral cancer, at Dr Ruth Pfau Civil Hospital and 5,830, including 72 of oral cancer, at Liaquat National Hospital.

Published in The Express Tribune, November 23rd, 2019.
COMMENTS
Comments are moderated and generally will be posted if they are on-topic and not abusive.
For more information, please see our Comments FAQ