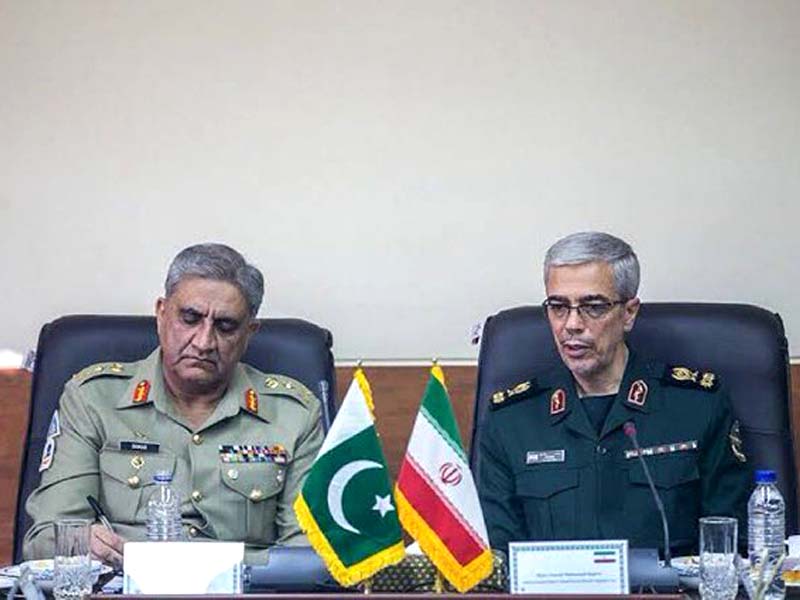 ---
ISLAMABAD: Army chief General Qamar Javed Bajwa on Monday reached Tehran as part of Pakistan's continuing efforts aimed at defusing tensions between Iran and Saudi Arabia.

There have been a flurry of high-level exchanges between the two countries in recent months, with focus on brokering some kind of a deal between Tehran and Riyadh.


COAS arrived Tehran, Iran on official visit. COAS met Major General Mohammad Hossein, Chief of Staff Iranian Armed Forces. Both discussed regional security environment, efforts for regional peace & stability and Pak-Iran Border Security Mechanism. pic.twitter.com/0kVl45CaJf

— DG ISPR (@OfficialDGISPR) November 18, 2019


Last month, Prime Minister Imran Khan along with ISI chief Lt Gen Faiz Hameed visited Tehran as part of efforts by Pakistan to facilitate talks between Tehran and Riyadh.

The two countries were heading for confrontation after Saudi oil facilities came under missile attacks in September. Saudi Arabia and the US blamed Iran but Tehran rejected claims.

However, tensions have eased a bit in recent weeks and Foreign Minister Shah Mehmood Qureshi said Pakistan had played a role in preventing further escalation in tensions.

Against this backdrop, the visit of the army chief is seen as significant. According to the military's media wing, General Bajwa held talks with Chief of Staff of the Iranian Armed Forces Major General Mohammed Hossein Baqeri. Both the leaders discussed regional security situation as well as border security.

The official Iranian news agency IRNA reported that the two military commanders discussed expansion of defense cooperation between Iran and Pakistan.

The Pakistani army chief and the Iranian commander reviewed the avenues regarding strengthening bilateral relations in the military as well as security affairs.

Both the sides discussed maintaining security of borders, preventing the activities of terrorist groups, promoting border trade exchange and convergence among Islamic countries.

The reference to convergence among Islamic countries suggests that the two military commanders must have discussed the on-going situation in the Persian Gulf region particularly when it comes to tensions between Iran and Saudi Arabia.

Pakistan has been seeking a dialogue between the Middle East rivals as it fears that any conflict between the two key Muslim countries will have serious implications for the region.
COMMENTS
Comments are moderated and generally will be posted if they are on-topic and not abusive.
For more information, please see our Comments FAQ