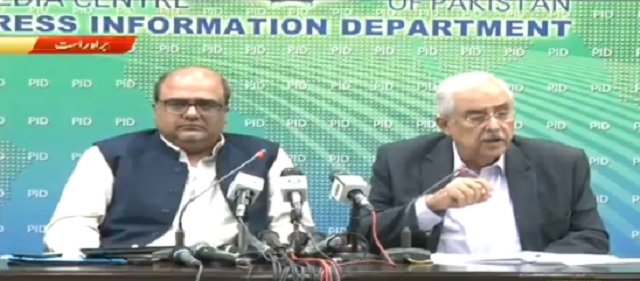 ---
ISLAMABAD: Special Assistant to the Prime Minister on Accountability Mirza Shahzad Akbar on Sunday said the Lahore High Court's (LHC) verdict on the removal of former prime minister Nawaz Sharif's name from the Exit Control List (ECL) "reinforces the federal government's stance".

Addressing a press conference along with Attorney General Anwar Mansoor Khan in Islamabad, Akbar stressed that there was no legal ground to remove a convict's name from the ECL.

"Nawaz Sharif was granted permission on humanitarian grounds since his condition is serious and he needs medical treatment abroad," he said.

The PM's aide asserted that the LHC has reinforced the federal cabinet's decision of giving Nawaz one-time permission to travel abroad.

LHC allows Nawaz Sharif to travel abroad — for 4 weeks

"The permission is for four weeks," he said, adding that Pakistan Muslim League - Nawaz (PML-N) President Shehbaz Sharif has vowed to ensure his brother's return.

"The Sharif family has a history of not honouring their agreements. Even the Supreme Court of Pakistan has said that Nawaz Sharif is neither sadiq nor amin."

Shehbaz Sharif would be liable for prosecution if he violates the undertaking, he added.

Attorney General Khan said the government still has the option of challenging the LHC decision but that call would be made by the federal cabinet.

He said the court accepted two of the three stipulations proposed by the cabinet and has given the former prime minister four weeks to seek treatment.

Khan asserted that the period had already started and Nawaz would have to approach the court for an extension since he was legally bound to return to Pakistan.

PTI govt, PML-N spar on Nawaz's condition after ITP diagnosis

Earlier on Sunday, the PML-N confirmed that Nawaz would be flying to London on Tuesday.

PML-N leader Marriyum Aurangzeb released a statement saying that an air ambulance will arrive on Tuesday morning to transport Nawaz to London for medical treatment.

She said doctors conducted a detailed examination of the three-time former prime minister and cleared him for travel after consultation among themselves.

"A high dose of steroids continues to bring his platelet count to a suitable level for travel. He is also receiving medication for blood sugar and other medical issues. The doctors are following a rigorous strategy to ensure he is able to travel safely," said Marriyum.