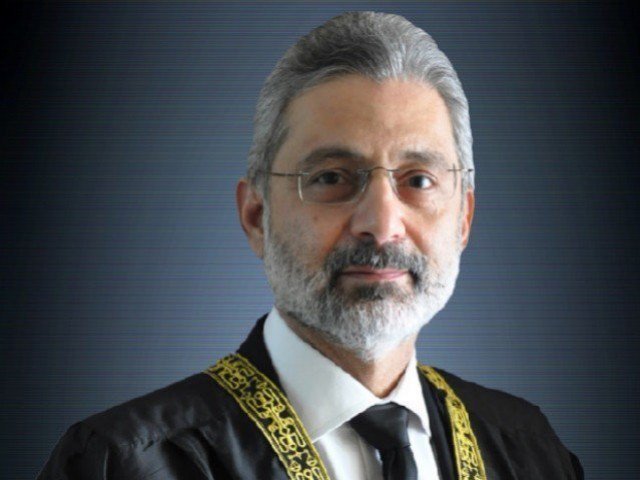 ---
ISLAMABAD: Justice Qazi Faez Isa's attorney has contended before the Supreme Court that there is no legal obligation on judges to disclose assets of their family members in wealth statements.

Babar Sattar, counsel for Justice Isa, starting his arguments before a 10-judge full court led by Justice Umar Ata Bandial has contended, "No one is above the law and all citizens must disclose their assets under the law but they are not bound to unveil the details of their family members' properties in wealth statements. However, there is a mandatory provision for lawmakers to disclose the asset details of family members."

Sattar clarified, "There is no such legal obligation on judges to disclose their family members' properties."

Justice Isa questions delay in taking up Faizabad review plea

The counsel also stated that the judge's fundamental rights were protected as Article 10-A ensured fair trial for him. Even the same constitutional provision (Article 10-A) was inserted in the Constitution after Iftikhar Muhammad Chaudhry's case.

Upon this, Justice Muneeb Akhtar noted that Article 10-A ensured fair trial in civil and criminal matters.  However, Justice Syed Mansoor Ali Shah observed that the judge's fundamental right could not be abolished for determining the real facts.

Sattar stated that the presidential reference admitted that three foreign properties belonged to Justice Isa's family members but same was not disclosed by the SC judge.

"Even the reference did not allege that these are benami properties," he said. "The Supreme Judicial Council must have decided the points raised by the president in his reference while there is no allegation of money laundering in the reference."

The counsel also argued that it was necessary for the tax authorities to send a notice under tax laws to the SC judge or his wife and children and make a decision regarding breach of any tax laws before the matter could be sent to the SJC.

Justice Bandial; however, noted that the SC judge would be asked about burden of proof. "It should not be forgotten that the SJC comprises senior judges and they are well aware about every law. Even the council respects the accused judge more than anyone," remarked Justice Bandial.

The bench also wondered whether this matter should be totally left to the tax commissioner for decision.

Sattar stated that no proceeding had been initiated against any civil servant in view of the violation tax laws. "The SJC has to examine as to whether the judge violated the code of conduct," he said.

He also questioned as to whether traffic challan of any judge would also be violation of judges' code of conduct.

Supreme Court delists Justice Isa case due to judge's unavailability

The counsel stated that Justice Isa's elevation to the apex court was a new appointment in 2014.

The bench noted that there was an allegation regarding source of fund to purchase these properties. It asked the counsel to explain through documents that the spouse was not dependent on him.

The counsel tried to explain that the government wanted to make a case like Panamagate wherein former prime minister Nawaz Sharif was convicted on his failure not to give money trail of his family members.

He stated that the Panamagate picture had been painted in this case with the same brush. Sattar would continue his arguments today (Tuesday).