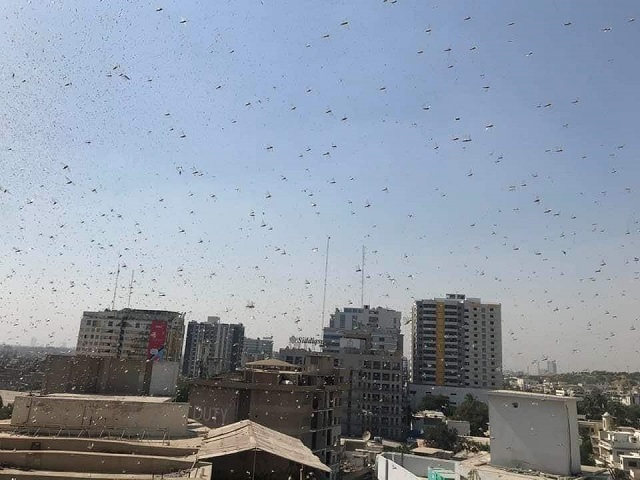 ---
KARACHI: In a rare occurrence, swarms of desert locusts have descended upon Karachi with citizens posting footage of the insects in various parts of the metropolis.

Known as Tiddi Dal  in Pakistan,  the insects were  seen filling the skies. The swarms of the insect have come from Thar, Sanghar and Dadu parts of Sindh.

While Sindh Agriculture Minister Ismail Rahoo has released a video message saying that the locusts are headed to Balochistan after spending the night in Karachi.


Rabies Aur dengue kay baad ub locusts Karachi phonch Gaye pic.twitter.com/xa6yOMIq87

— omar r quraishi (@omar_quraishi) November 11, 2019


Rahoo added that the locusts were in the Malir area and had not harmed any crop so far.


In my balcony in #karachi. Massive swarms of locusts! pic.twitter.com/Cp0NeGai1o

— Ayesha Mysorewala (@ayeshamysore) November 11, 2019


He said the provincial government had already sent teams to the affected areas.

Sindh, Centre look to each other for locust control as farmers fear for crops

Rahoo urged people to remain calm as the locusts would not harm them in any way.


#Karachi: Swarms of Locusts invade #BalochColony & Shahra-e-Faisal right now. (12:40pm) #KHIAlerts pic.twitter.com/IBeR09KIiA

— SherY (@SherySyed2) November 11, 2019


"We have sprayed pesticides in Nawabshah, Badin and Sanghar," he added.


Locust invasion in Karachi. The last major attack took place in 1961 (pic 2). According to experts, the locusts have flown in from the coastal areas of Balochistan. They believe this invasion is due to heavy rains in Sindh and Balochistan during the monsoon season. pic.twitter.com/baiJBgWJ0w

— Nadeem Farooq Paracha (@NadeemfParacha) November 11, 2019


On a lighter note, the provincial minister said,"Yes, they [citizens] should make use of the opportunity to cook them."




Locusts are short horned grass hoppers and desert locusts of Africa and Asia are normally solitary, however, spring rains trigger a behavioural transformation that can results in a swarms of locust. A single swarm ranges from 100,000 to 1 billion locusts.