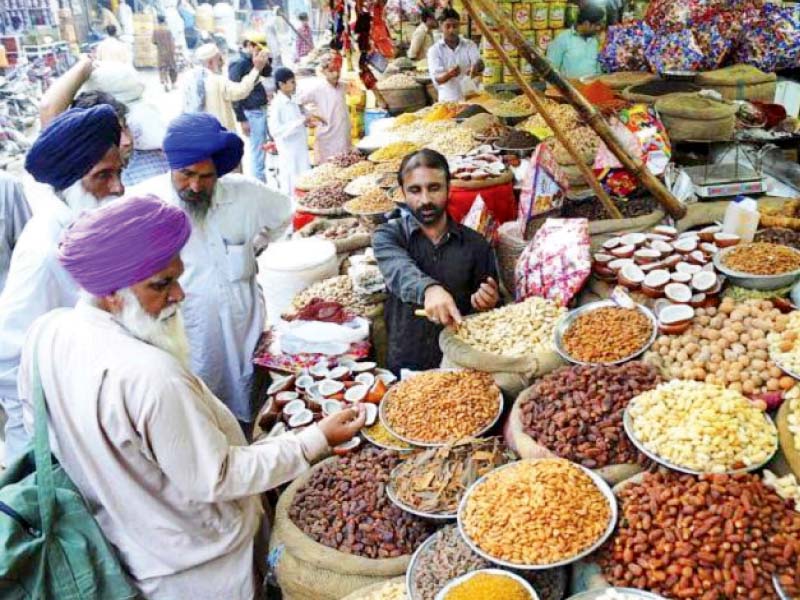 ---
LAHORE: Sikh pilgrims, arriving in droves to Pakistan to commemorate the 550th birth anniversary of Baba Guru Nanak Devji, have been taking in the sights of the historical city of Lahore.

Staying true to the famous Punjabi quote, 'those who haven't seen Lahore, haven't seen anything', the pilgrims are touring sites and shopping for dry fruits in old city markets, while soaking in the atmosphere and hospitality of the people of Lahore.

Pakistan opens its border and its heart for Sikh community at Kartarpur

Sikh pilgrims from all over the world, including India, have come to Pakistan to celebrate the 550th birth anniversary of the founder of Sikhism; Baba Guru Nanak Devji. The main ceremony for the occasion will be held on November 12. However, in the run up to the festivities, pilgrims and their families have taken to the streets to witness the sights of the city.

Anarkali Bazaar, Delhi Gate and Azam Cloth Market and other main markets are some of the main hotspots for enthusiastic pilgrims.

Speaking to The Express Tribune, a delegation of Sikhs from the United Kingdom revealed that they purchased dry fruits and pure almond oil from Akbari market. Meanwhile, the women gravitated towards traditional Punjabi clothing and shoes available at Delhi Gate Market.

"Ever since I was a child, I remember people saying that Lahore is a sight to behold which is why we are here," said a member of the delegation, Sardar Sahib Sigh. "The walled city of Lahore has its own unique charm," he added.

A woman, Ramdeep Kor stated that dry fruits in her home country are extremely expensive. "In Pakistan they are available at a considerably cheaper price," she explained. "We were also drawn towards the almond oil as the vendors claimed to have extracted it in a traditional way," she said.

Another Sikh woman, purchasing clothes and shoes from Azam Cloth Market, stated that she loved Punjabi dupattay which she had bought for her daughters. "We also like simple Pakistani shoes," she said.

In pictures: Opening of Kartarpur Corridor

Many pilgrims also visited the Royal Fort as well as the Sikh Gallery and Museum and snapped pictures with the statue of Maharaja Ranjit Singh. Several of the Sikh pilgrims were visiting Pakistan for the first time and were delighted to see the artefacts housed at the museum.

They stated that the manner in which Sikh heritage has been preserved in Pakistan is unparalleled. It is heartening to see the way in which gurdwaras have been restored and maintained in the country, they added.

Published in The Express Tribune, November 10th, 2019.