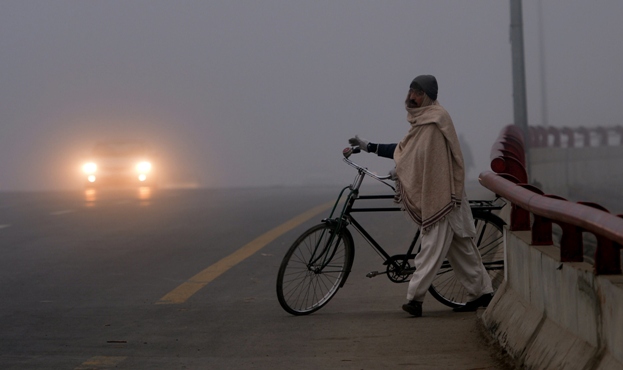 ---
KARACHI: Temperature is expected to drop to 13 degrees Celsius to 15 degrees Celsius on Saturday after a cold spell hit Karachi, as well as other areas of Sindh.

The mercury drastically fell by eight degrees to 15 degrees Celsius in the port city on Friday, according to the Pakistan Meteorological Department (PMD).

Chief Meteorologist Sardar Sarfaraz said the recent drop in temperature in the city has broken the previous record of average minimum temperature recorded in Karachi in November, which is 16 degrees Celsius. He attributed the sudden fall in temperature to the drop in temperatures in Quetta and Qalat, a system of cold wind entering the country and recent spells of rainfall in northern areas and Islamabad. Sarfaraz said that the cold spell will last over the next few days.

Temperature in Karachi may drop to 20 degrees Celsius

According to the Met Office, minimum temperature ever recorded in Karachi, during the month of November, was in 1986, when the temperature dropped to 7.8 degrees Celsius.

Maximum temperature in Karachi on Friday was recorded at 29.5 degrees Celsius and humidity levels reduced to 20%. Northwestern winds blew all day long while the visibility was reduced in the morning due to fog.

In other Sindh towns and cities, minimum temperature of 10 degrees Celsius was recorded in Mohenjo Daro, 12 degrees Celsius in Sakrand, 12.5 degrees Celsius in Sukkur, 13 degrees Celsius in Tando Jam and Mithi, 13.7 degrees Celsius in Chor, 14.5 degrees Celsius in Rohri and Dadu, 15 degrees Celsius in Jacobabad, 16.5 degrees Celsius in Thatta, Mirpurkhas and Badin, 17 degrees Celsius in Hyderabad and 18 degrees Celsius in Nawabshah.
COMMENTS
Comments are moderated and generally will be posted if they are on-topic and not abusive.
For more information, please see our Comments FAQ