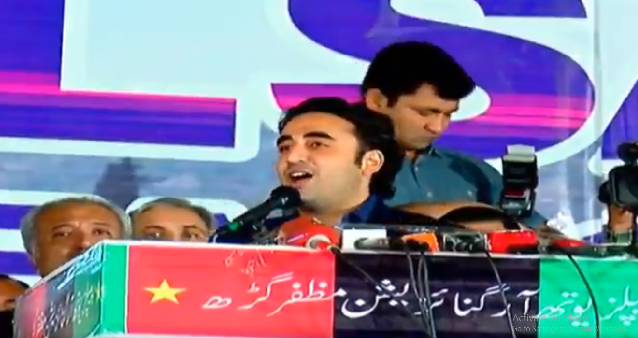 ---
[fbvideo link=" https://www.facebook.com/etribune/videos/453828455265619/"][/fbvideo]

Pakistan Peoples Party (PPP) chairman Bilawal Bhutto-Zardari said on Friday that protests against Prime Minister Imran Khan, who had "lust for power", will continue till his resignation.

"You [Imran Khan] want to remain in power at any cost, you have a lust for power but the people will no longer tolerate you...you have become a liability and shall meet the same fate as dictators," the PPP chairman said while addressing a rally in Muzaffarabad.


شہادتوں کے علم جب بلند ہوجائیں
تو جہاں میں رسوا یزید ہوتے ہیں
عظیم باپ کی بیٹی بتا گئی شوکت
حسین والے ہمیشہ شہید ہوتے ہیں#GoSelectedGo
(1/4) pic.twitter.com/XPzY1RQGMM

— PPP (@MediaCellPPP) November 8, 2019


Bilawal, who is leading anti-government protests across the country, said the "selected prime minister" had made the lives of the masses miserable, adding that the government had borrowed an unprecedented amount loans besides imposing a burden of heavy taxes.

He demanded free and fair elections to rid the country of crisis.


"الیکشن سے قبل خبردارکیاتھا کہ ملک میں ایک کٹھپتلی حکومت بنانے کی کوشش کی جارہی ہے۔
پی پی پی کو منصفانہ الیکشن مہم چلانے نہیں دی گئی،الیکشن کے یکساں مواقع تک فراہم نہیں کیے گئے اورہمارے راستے میں رکاوٹیں ڈال کر کٹھپتلی کیلیے میدان صاف کیا گیا۔"@BBhuttoZardari#GoSelectedGo
(2/4) pic.twitter.com/dHrJ7Kk7kD

— PPP (@MediaCellPPP) November 8, 2019


The PPP chairman claimed that the premier was taking the country towards political instability, saying that his "dictatorial and fascist" policies had endangered the future of democracy in the country.

He said he was staging rallies across Pakistan to expose the "selected and incompetent" government. "We will hold PPP's foundation day rally in Azad Jammu and Kashmir on November 30," he announced.

All opposition parties, as well as people from all walks of life wanted the government to step down, he said, vowing to continue protests until its ouster.