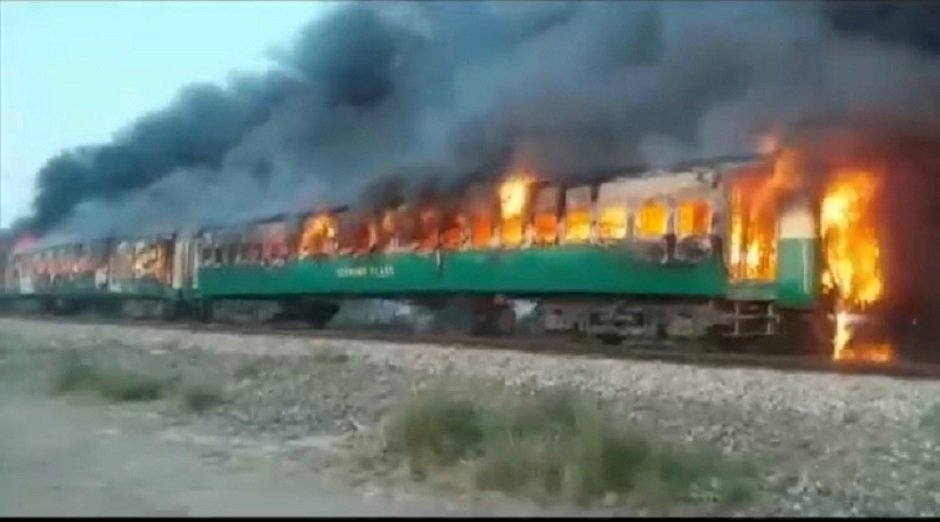 ---
DERA GHAZI KHAN: Another victim of the incident, where a blaze engulfed a passenger train en route to Rawalpindi from Karachi, died on Saturday bringing the death toll to 75.

The victim was identified as 45-year-old Liaquat. He was being treated at Nishtar Hospital in Multan. Reportedly, four others admitted to the intensive care unit are still in critical condition; nine patients are still being treated at the facility.

The remaining patients were identified as 46-year-old Abdur Rehman, 32-year-old Rizwan, 36-year-old Mukhtiar, 36-year-old Rafiq, 38-year-old Zahid, 45-year-old Akhtar, 25-year-old Shahzad and 25-year-old Kashif.

One of the victims, Abdur Rehman, who regained consciousness two days ago, stated that he is still searching for his 15-year-old son Umar.

PM Imran orders 'immediate inquiry' into Tezgam train accident

Separately, 20-year-old Rubina, who was also injured in the incident, is still in critical condition at Bahawal Victoria Hospital where her husband is also undergoing treatment.

Meanwhile, the process of identifying the bodies has begun at Sheikh Zayed Hospital. Around 57 DNA samples have been sent to the laboratory for testing. Reportedly, the hospital administration has set up a camp to obtain DNA samples from the relatives of the deceased so that the bodies can be identified and handed over.

Bogies to be repaired

Three bogies of Tezgam Express, which were burnt in the incident, will be repaired after an inquiry is completed said Divisional Commercial Officer (DC) Nabeela Aslam. She stated that the coaches would be sent to the Pakistan Railways' (PR) workshop after the finalisation of the inquiry.

Mirpurkhas in mourning as Tezgam fire victims laid to rest

She maintained that initial investigations suggest that the tragedy occurred because of a cylinder blast. She said that on the same day, PR authorities and police seized 23 gas cylinders from passengers aboard another train at Khanewal station. The cylinders were concealed in their luggage.

Responding to a question, she stated that how can a single person deputed at the walkthrough gates or scanners at railway stations check the luggage of a large number of passengers, hurrying to catch their train.

"Carrying cylinders is against PR rules. However, passengers manage to conceal it in their luggage," she said.

She added that a time period cannot be determined for the inquiry as the team responsible for the task has to complete a fair bit of work.

Nine of those that were injured have been admitted to Bahawal Victoria Hospital while the same number of victims has been admitted to Nishtar Hospital.

A PR official said that the bogies would be repaired at the carriage factory in Islamabad and would take at least three months. The financial loss of the damaged coaches has yet to be assessed, he said.

*additional input from APP 

Published in The Express Tribune, November 3rd, 2019.