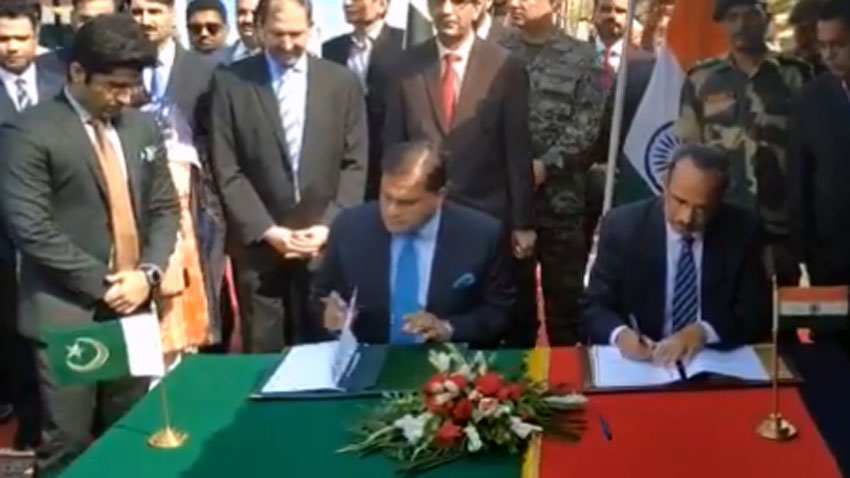 ---
LAHORE: After protracted negotiations punctuated by frequent snags, Pakistan and India have finally signed an agreement to open the Kartarpur corridor for Indian Sikh pilgrims to visit Gurdwara Kartarpur Sahib – one of Sikhism's holiest pilgrimage sites in Narowal district of Punjab –  without a visa.

The corridor – about six kilometres long – will connect Gurdwara Darbar Sahib Kartarpur, the last resting place of Sikhism founder Guru Nanak Dev Ji, with Dera Baba Nanak Sahib, another Sikh holy site in the Indian state of Punjab.

The agreement was signed by Pakistan's Foreign Ministry official Dr Mohammad Faisal and Subhas Das of India's Home Affairs Ministry at the border crossing close to Kartarpur Gurdwara on Thursday.


Prime Minister Imran Khan will formally inaugurate the corridor on November 9, well before the 550th birth anniversary celebrations of Guru Nanak.

The agreement is being seen as rare cooperation between the two bitter neighbours after a military confrontation in February that saw Indian warplanes violating Pakistan's airspace and dropping bombs and Pakistan downing two Indian jets following retaliatory air strikes inside Indian Occupied Kashmir.

"Operationalisation of the Kartarpur Sahib Corridor is … in line with Prime Minister Imran Khan's commitment,  Pakistan's policy of promoting inter-faith harmony and Islamic traditions of respect for all religions," the Foreign Office said in a statement.

The agreement will facilitate visa-free travel of 5,000 pilgrims daily in groups or individually, on foot or by bus to visit Gurdwara Kartarpur Sahib, from dawn to dusk throughout the year, except on public holidays or for exigencies/emergencies, which will be notified to India in advance, according to the statement.

The number of Sikh pilgrims would be increased on special occasions, subject to capacity. The pilgrims will travel on valid Indian passport, while non-resident Indians will also be required to carry their Indian-origin card. Each pilgrim will be charged $20 as service charges for each visit.

The Indian government will share lists of pilgrims 10 days in advance, while Pakistan will share the final list of pilgrims four days before the visit. "Advance exchange of pilgrim lists will facilitate pilgrims allowing them to make plans in advance and providing sufficient time to both governments for processing," says the statement.

Ex-Indian PM to attend Kartarpur opening as 'common man' instead of 'chief guest'

"The signing of the agreement, despite the challenging environment is unprecedented and reflective of Prime Minister Imran Khan's commitment towards facilitating Nanak Naamlevas to visit their most reverential place of worship in line with Pakistan's Kartarpur initiative and groundbreaking ceremony last year," says the statement.

"You can call this [agreement] baby steps," said Dr Mohammad Faisal, Director General (South Asia & SAARC) at Pakistan's Foreign Ministry, while speaking at the signing ceremony.

He was referring to the possibility of normalization between the two arch nemeses whose relations are currently at the lowest ebb following the revocation of Indian Occupied Kashmir's special status by New Delhi.

"We have just begun to walk, we have taken a few steps. [Hopefully] we will walk faster and run as well, but right now we have just taken a few steps. Let us take them and then we will see," he said.

"It was a very, very difficult and tough negotiation," said Dr Faisal. "Negotiating with India, because of the history that we have, is never easy. It is never simple."

The corridor is in the last stages of construction and officials say it will be open for use by early November. Hundreds of labourers are still busy putting finishing touches to the Gurdwara and its expansion, which is spread across 42 acres.

"Roads and a reception centre have been built in the area.  A huge Gurdwara has been built, which is being described as the biggest in the world," said Dr Faisal.

The present shrine, which was built in 1925 after the original one was destroyed by floods, had been constructed to commemorate the site where Guru Nanak spent the last 18 years of his life.

It is considered to be the second holiest site for Sikhism after Gurdwara Janam Asthan, also in Pakistan, which was built at the site where Guru Nanak was born.

In a statement, the Indian foreign ministry welcomed the signing of the agreement but registered a protest against Pakistan levying $20 fee on pilgrims using the corridor, saying it was "not in consonance with the religious and spiritual sentiments of Indian pilgrims".

Pakistan has defended the decision to impose the cost, citing the need to maintain the shrine and the facilities associated with the corridor.

On Sunday, Prime Minister Imran Khan announced the date for the inauguration of Kartarpur Corridor.

In a Facebook post, he said that constructions on the Pakistani side of the border had entered the final stage. "Pakistan is all set to open its doors for Sikhs from all across the globe," he wrote.

"World's largest Gurdwara will be visited by Sikhs from across India and other parts of the world," he said, adding that the Kartarpur Corridor will be a major religious hub for the Sikh community.

"[It] will boost the local economy [and] result in earning foreign exchange for the country creating jobs in different sectors including travel and hospitality."

(With additional input from Agencies)