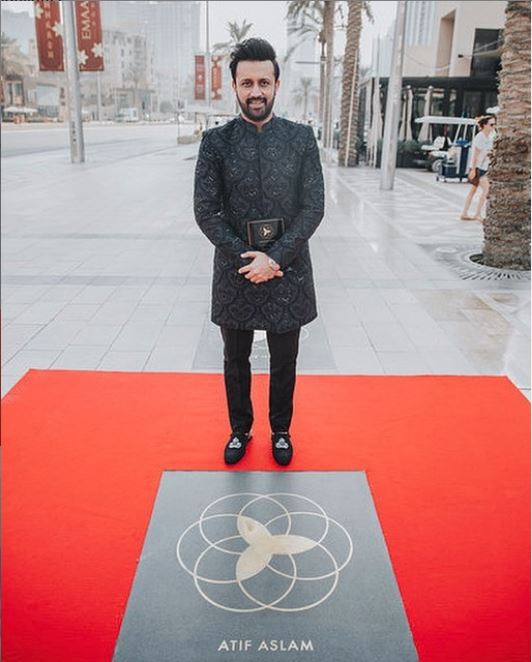 ---
Turns out Dubai has its own walk of fame and it's called the Dubai Stars, a project which officially opened yesterday at a Downtown Hotel press conference in Dubai.




Eight luminaries from the entertainment world gathered to celebrate the occasion and collect their commemorative plaques, according to Khaleej Times. It appears that renowned singer Atif Aslam and the Bollywood actor Sonam Kapoor also attended the event to collect their awards.




Aslam was awarded for being the 'Best Singer in Pakistan' and the star shared the moment on his Instagram along with pictures of the engraved honour.




While describing the project at the event, the Downtown Dubai General Manager said, "Dubai Stars is a 'walkable' star-studded experience across Downtown Dubai honouring global personalities from all walks of life on their achievements and work."

The site showcased 400 stars awarded to change-makers and eminent personalities within the realms of film, music, arts, literature, sports and social media influence, and it turns out that Aslam was fortunate enough to be a part of them.




The singer is no stranger to the city, given his multiple concerts resonate with the UAE's population to such a great extent that increasingly large venues are required to accommodate his fans.




While thanking Dubai for the honour bestowed upon him, Aslam said, "It's a very vibrant city, this is the only city I think I really enjoy myself walking on the streets in. I have played for 150,000 people here, so it has a lot of good will. We, South Asians, especially Pakistanis and Indians - we're everywhere, but this is one place where we are a lot. So I really love the fact that my music is heard over here."




When questioned about what he'll do when he finally see's the tribute, Aslam said, "I'll just stand there and say 'yes!'"




"It's like the Hollywood Walk Of Fame so it's quite a big deal. I have been chosen among a lot of people around the world and I'm blessed to be among these people. It means a lot."

Furthermore, when asked as to why he thinks he may have been awarded, he said that it's all about traversing boundaries. "Music has always connected people and has crossed cultures. I started in Pakistan, went to India and have now gone global," concluded the star.

Have something to add to the story? Share in the comments below.