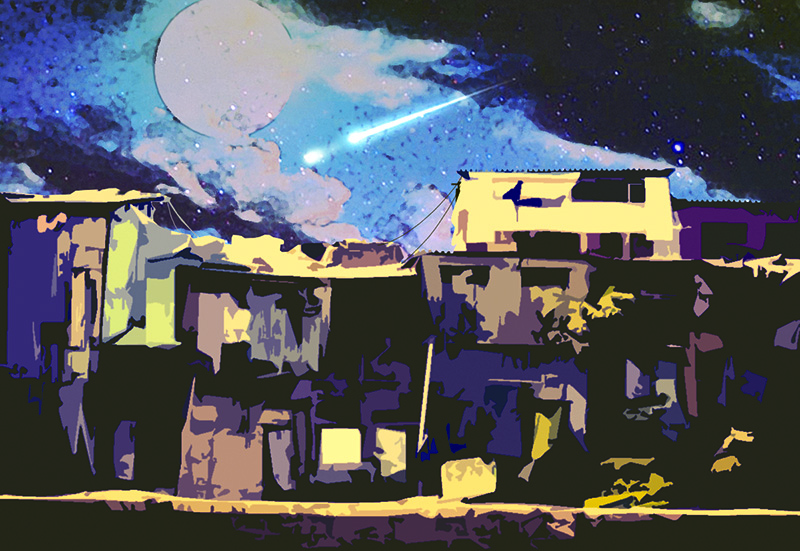 ---
KARACHI: The first time Muskaan Amjad stepped inside the Institute of Business Administration(IBA) in Karachi, where she presently studies, she felt strange. A resident of a low-income locality in Korangi and the daughter of a rickshaw driver, Amjad recalls she was fascinated, charmed and intimidated - all at the same time.

"Everything seemed too big and yet charming when I first visited the varsity with my mother," she said.

It was her dream to study at the top-ranked university but back then, she had no idea how she would manage it, given her limited resources. Then one day, she received a call from The Citizens Foundation (TCF) - a non-profit organisation that works to educate students from low-income backgrounds, where she had been studying till then.

Govt may hire 700 new teachers for ICT schools

"They wanted me to join their Alumni Development Programme (ADP)," she said, which was where her journey to getting admission at the IBA began.

The idea

The programme, which is solely run by volunteers, is aimed at preparing students for the entrance exams of various top-tier universities in Pakistan and helps them get scholarships and financial assistance.

It is the brainchild of Nadeem Hussain, a member of the governing body of ADP, who also works for the World Bank. He came up with the idea around five to six years back and worked to develop it further with one of his friends, Farheen Ghaffar. They put together a team of volunteers and trained 25 TCF students from underprivileged areas, of whom three secured admissions in three of Pakistan's top-ranked universities, including IBA, Lahore University of Management Sciences (LUMS) and the Foundation for Advancement of Science and Technology (FAST).

It was a milestone for Hussain and Ghaffar, which gave them the confidence to present their idea to the TCF administration, in order to increase its reach. They proposed the idea to TCF in 2014 and have been working in affiliation with the organisation since then.

Talking about the programme, Hussain said that it considers three essentials. "We need volunteer teachers, support from universities including scholarships and access to financial aid to run different chapters, now that the ADP established at various varsities in the country," he said.

Training hard pays off

Over time, the programme has developed into an organised nexus of volunteers, varsities and students.

The volunteers, including the undergraduate students at TCF as well as those from different universities, begin conducting foundation level classes for those who have taken their matriculation exam. "In the foundation level classes, the students are counselled and given direction to choose the right career path," explained Amjad.

The foundation level classes are followed by level one and level two classes, constituting students of intermediate level.

Recalling the time when she was attending these classes, Amjad relived her struggle, owing to the classes' rigourous schedule.

The classes were held at IBA main campus, which was at quite a distance from her house. "My sister and I [who was also attending the classes under ADP] had to change two buses and then take a Qinqchi rickshaw to reach the campus and attend classes which were held seven days a week, from 8:30am to 5pm," she said.

Amjad added, however, that it was only due to her struggle that she is now a student of one of the best varsities in the country. The extra effort that her mentors at the ADP encouraged her to put in her work has enabled her to compete with her peers today.

Reflecting on the subject, Amjad said, "There is a vast difference in the standards of English and Mathematics taught to the students of public and private schools. As a result, the chances of a student, hailing from a humble background, passing the entrance exam of a top-ranked university are very less," she said, adding that the mentors at ADP pay individual attention to each student which enables them to achieve the dream of studying at a good university.

Bridging the gap

Over the past few years, numerous students like Amjad have been trained by volunteers at ADP. The programme has established its chapters in four of the top-ranked varsities in Pakistan, including IBA, Institute of Business Management (IoBM), Habib University and LUMS.

These bodies include an adviser, who is a graduate of the varsity, a team leader who is usually a final year student, deputy team leads who are third-year students and assistant team leads who are second-year students. They work as ADP ambassadors who provide guidance to those willing to enroll at their universities but lack the resources.

Underlining the importance of such initiatives, Hussain, who himself spent his childhood in one of Karachi's slum areas, Ibrahim Goth, expressed his discontent over the information divide that has gripped the country.

"There are many students [from underprivileged areas] who don't have a clue about how to get admission in a top-ranked university, let alone get a scholarship at these institutes," he said.

Hence, in addition to preparing students for entrance exams, the programme also considers preparing them to get scholarships. Moreover, under the programme, students are offered a 100 per cent fee waiver, free books and even a stipend at various universities. Also, in some cases, on the request of the members of the governing body, university administration also waives off the entrance fee for the students.

However, ADP's initiative is not limited to academics and financial support. In fact, the programme trains the students to compete with others in all spheres of life and focuses on building their confidence.

It taught Amjad to stand up again after every fall, which enabled her to participate in IBA's National Talent Hunt Programme for the second time, even after she was rejected the first time, and emerge a winner. It taught her to move out of her comfort zone and adjust in different social settings. As a result, she was able to overcome her fear and confidently compete with other students in an environment which was drastically different from what she had been familiar with all her life.

Best performing education officials recognised in K-P

In her words, "the fear of interacting in a new environment has been replaced by new dreams."

Giving back to the community

Today, along with studying computer science at IBA, she actively participates in extra-curricular activities at the varsity, works part-time to support her family and also volunteers at the ADP. She aspires to not only achieve professional success but also give back to the community through initiatives like the ADP, following in the footsteps of Hussain - who was the first student from TCF to get admission at IBA and has now set up an entire network in place to help other underprivileged students achieve their dreams of breaking barriers and making it big.



Published in The Express Tribune, October 21st, 2019.
COMMENTS
Comments are moderated and generally will be posted if they are on-topic and not abusive.
For more information, please see our Comments FAQ