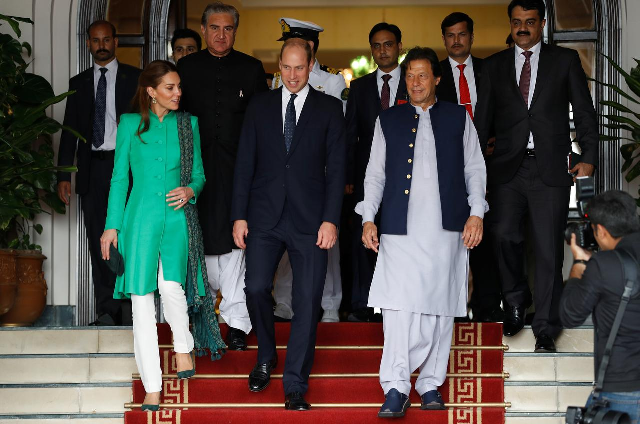 ---
Prime Minister Imran Khan hosted a lunch in honour of Prince William and Kate Middleton on Tuesday at the Prime Minister's House.

The Duke and Duchess of Cambridge are the first royals to visit Pakistan after the 2006 visit of Prince Charles.




Before their meeting with the premier, the royal couple met President Arif Alvi as part of their first visit to the country.

Prince William and wife Kate Middleton called on President Arif Alvi at the President House and appreciated initiatives taken by the government to combat climate change and efforts for poverty alleviation.

The Duke and Duchess of Cambridge called on the President here at the Aiwan-e-Sadr Islamabad today. @KensingtonRoyal @ukinpakistan#RoyalVisitPakistan pic.twitter.com/HJ7Ic43IFc

— The President of Pakistan (@PresOfPakistan) October 15, 2019

President Alvi - along with the first lady – accorded a warm welcome to the royal couple and lauded their endeavours to raise awareness about issues such as mental health.




Prince William also appreciated the president's welcome and hospitality.

Royals start Pakistan tour with support for education, environment

The Duke and Duchess of Cambridge were accompanied by British High Commissioner to Pakistan Thomas Drew, Principal Private Secretary to the Duke Mr Simon Case and Communications Secretary to the Duke and Duchess of Cambridge Mr Christian Jones.




The royal couple touched down at the Noor Khan Airbase on Monday night, where a red carpet had been rolled out for them. They were received by Foreign Minister Shah Mahmood Qureshi and his wife along with British High Commissioner Thomas Drew.

Kensington Palace described it as their most complex visit so far and the itinerary for their five-day stay has been kept under wraps. A statement said that the "royal couple want to meet as many Pakistanis as possible during their visit".