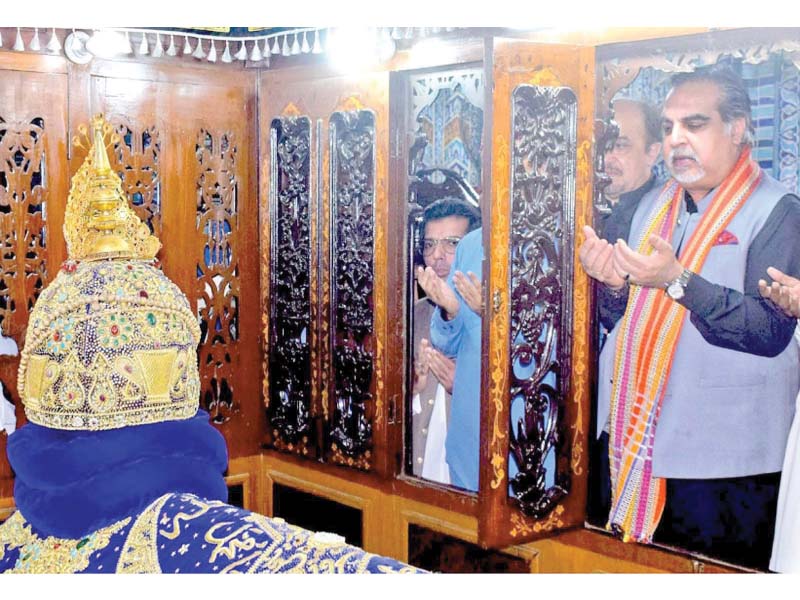 ---
HYDERABAD: With tens of thousands of devotees of the Sufi poet, Hazrat Shah Abdul Latif Bhitai converging on Bhit Shah, a small town in Matiari district, the poet's 276th urs celebrations officially commenced on Monday. Sindh Governor Imran Ismail and provincial ministers separately visited the shrine, with the former officially inaugurating the urs celebrations by laying a chaddar and offering Fateha.

"I consider myself a slave of the Sufi saints. Because of their shrines, Sindh is a blessed land," said the governor. Sindh Culture Minister Syed Sardar Ali Shah said it is an honour for the provincial government to organise the three-day festival.

Matiari Deputy Commissioner Ghulam Hyder Chandio said that Section 144 has been imposed by the home department against display of weapons in the town. He added that 2,400 policemen and 80 personnel of Rangers have been deployed for security.

A Hindu devotee of Shah Latif runs a sabeel and stocks shoes at his shrine

According to him, the town is being monitored through 44 close circuit television cameras while 20 walk-through gates with metal detectors have been placed at the shrine and other places of urs related activities in Bhit Shah. Private vehicles were not allowed entry more than a kilometre away from the shrine.




The poet remembered

Shah Abdul Latif, known from his sobriquet Bhitai, was born in 1689 at Hala Haveli in Matiari district. His father, Syed Habibullah Shah, was also a great poet and philosopher. The compilation of Bhitai's poetry is called Shah Jo Risalo which has been translated into English, Urdu and other languages.

Urs celebrations of Hazrat Shah Abdul Latif Bhitai commence

The Sufi poet was also a great musician who played the five-stringed instrument he named 'dambur,' a modification of central Asia's four-stringed 'tambur'. Bhitai's disciples, called Fakirs of Shah Abdul Latif Bhitai, still perform renditions of his music along with the recitation of his poetry in the voices of men and women.

'Sughar Kachehri'

On the first day of the festival, 'Sughar Kachehri' [a conference of folk intellectuals], cattle and horse shows, local wrestling, industrial, agricultural and livestock exhibition, were organized for the visiting devotees. A musical night has been scheduled for all the three days. 

Published in The Express Tribune, October 15th, 2019.