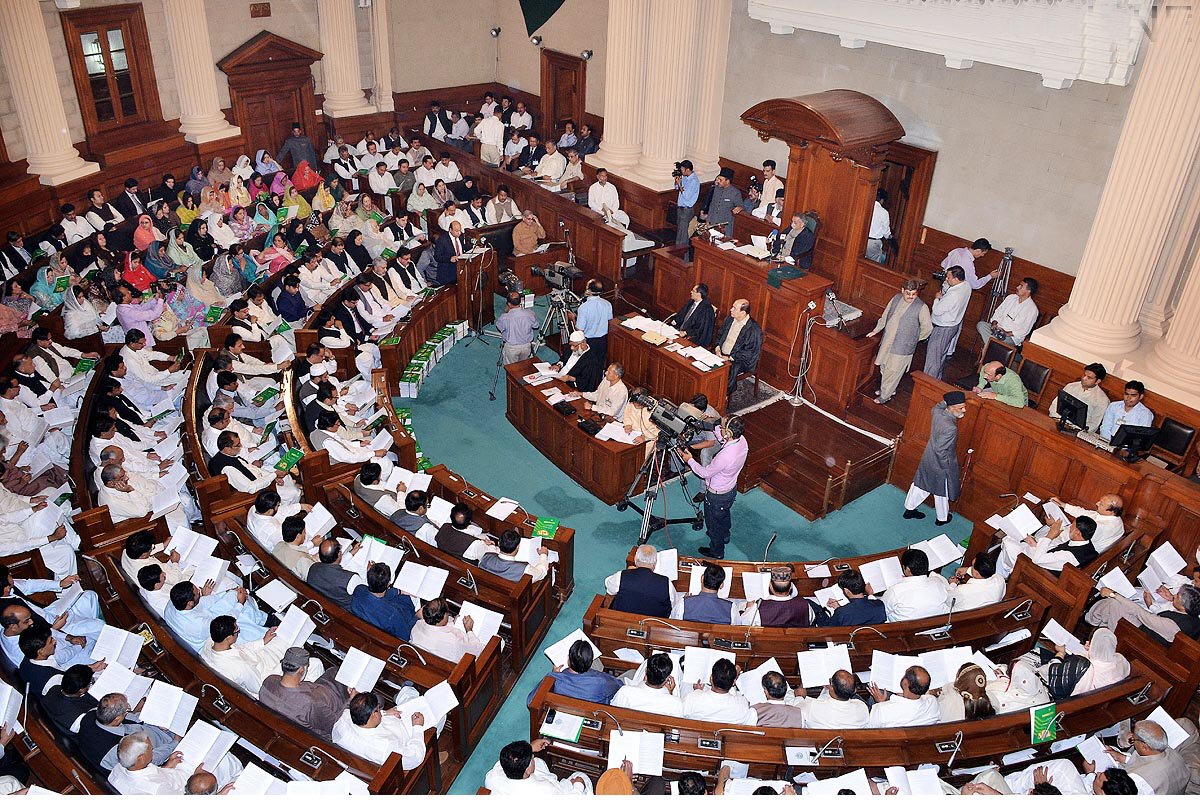 ---
LAHORE: The Punjab Assembly treasury seemed least interested in running the affairs of the house after the session was called on the opposition's requisition. The government failed to take up crucial items on the agenda, including the Kashmir issue, dengue, price control and other matters.

Opposition lawmakers expressed their concern over summoning the session on Friday as it is usually adjourned before afternoon prayers. It was also dismayed over the taking up of items that were not part of the original agenda.

In addition, the question-answer session was given only 15 minutes and two questions out of 23 were tackled when time ran out. The opposition gave a strong reaction to the treasury after the latter started laying down reports which actually were not part of the agenda.

Opposition lawmakers raised several objections, while also asking how government business could be carried out when the house was summoned on the opposition's requisition.

Punjab Assembly lauds air force's efficient response

Deputy Speaker Sardar Dost Muhammad Mazari quoted Rule 167 of the Rules of Procedure of the Provincial Assembly of the Punjab 1997. According to him, it allowed the treasury to lay out reports without making them part of the agenda. PML-N's Malik Muhammad Ahmed said the same rule also outlined making "copies thereof made available to members". He asked for copies of the same.

PML-N MPA Rana Mashhood Khan said proceedings being run under the chair of the deputy speaker were "illegal" as the house was being sabotaged by deliberately laying out reports which were not part of the assembly's agenda.

Punab Minister for Law Raja Basharat said he was ready to present the assembly records of the last 10 years to prove that PML-N made similar moves. He said the same developments are now illegal in the opposition's eyes despite the government conducting proceedings under the rules. Finally, Mazari declared that laying out reports without mentioning them on the agenda items was legal.

Later, a general discussion kicked off on the Kashmir issue, health services, law and order, price control and dengue.  Former PML-N minister Khawaja Imran Nazir was the first speaker who delivered his speech on dengue. He slammed the government for taking "immature measures" to control the situation.

He also took a jibe at Punjab Chief Minister Sardar Usman Buzdar, saying the province was being run on a "learner's license" rather than by eligible and capable provincial executive. He pointed out that proceedings started after a delay of an hour and forty-nine minutes.

Published in The Express Tribune, October 12th, 2019.
COMMENTS
Comments are moderated and generally will be posted if they are on-topic and not abusive.
For more information, please see our Comments FAQ