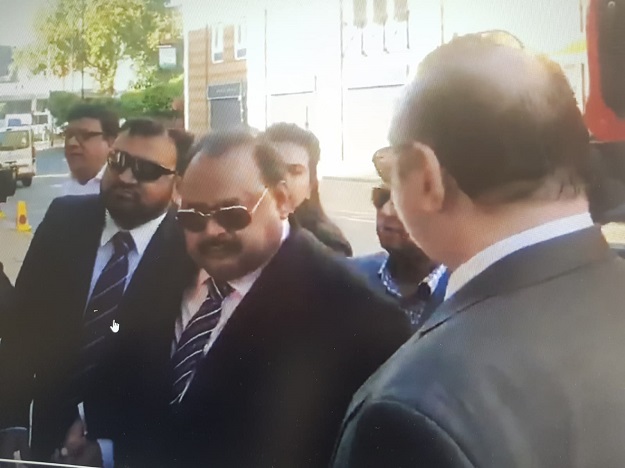 ---
LONDON: Altaf Hussain, the self-exiled founder of Muttahida Qaumi Movement (MQM), was charged on Thursday with a terrorism offence by London's Metropolitan Police over a speech in which he had allegedly incited his followers to violence. Later in the day, a court released him on bail granted under strict conditions.

The Scotland Yard confirmed in a statement that detectives from the Counter Terrorism Command have charged a 66-year-old man with a terrorism offence in connection with a speech made in August 2016.

"Altaf Hussain (17.09.1953), of Abbey View, Mill Hill, NW7, was charged under section 1(2) of the Terrorism Act (TACT) 2006 with encouraging terrorism, namely:

"On 22 August 2016 published a speech to crowds gathered in Karachi, Pakistan which were likely to be understood by some or all of the members of the public to whom they were published as a direct or indirect encouragement to them to the commission, preparation or instigation of acts of terrorism and at the time he published them, intended them to be so encouraged, or was reckless as to whether they would be so encouraged," read the statement.




"Hussain was previously arrested on 11 June on suspicion of intentionally encouraging or assisting offences contrary to Section 44 of the Serious Crime Act 2007. He was released on bail and subsequently charged as above."

Terrorism charges

Section 1 (2) of UK's Terrorism Act (TACT) 2006 states: "A person commits an offence if — (a) he publishes a statement to which this section applies or causes another to publish such a statement; and

(b) at the time he publishes it or causes it to be published, he —

(i) intends members of the public to be directly or indirectly encouraged or otherwise induced by the statement to commit, prepare or instigate acts of terrorism or Convention offences; or

(ii) is reckless as to whether members of the public will be directly or indirectly encouraged or otherwise induced by the statement to commit, prepare or instigate such acts or offences."

Section 1 (7) of the same act says a person guilty of an offence under this section shall be liable —

(a) on conviction on indictment, to imprisonment for a term not exceeding [15 years] or to a fine, or to both;

(b) on summary conviction in England and Wales, to imprisonment for a term not exceeding 12 months or to a fine not exceeding the statutory maximum, or to both;

(c) on summary conviction in Scotland or Northern Ireland, to imprisonment for a term not exceeding 6 months or to a fine not exceeding the statutory maximum, or to both.

Conditional bail granted

Later in the day, Altaf was produced before District Judge Emma Arbuthnot, Chief Magistrate at Westminster Court, where he pleaded not guilty.

The judge granted him conditional bail after Altaf's attorney pleaded before the court that her client is unwell. According to the conditions, a night curfew has been imposed on him, which means he cannot leave his premises at night without informing the police. He has also been restrained from making speeches to the media or using social media.

The MQM founder can also not apply for travel permit and his passport would remain in custody.

Night curfew as a condition is applied to serious offenders and those under investigation for serious offences. Electronic tagging is also done to ensure compliance. The next hearing will be held at the Central Criminal Court on November 1.

According to sources, the Crown Prosecution Service is more than 90 per cent confident of him being convicted.

Hateful speech

In the August 22, 2016 speech relayed to his followers at a MQM gathering outside Karachi Press Club, the MQM founder had allegedly incited his supporters to take the law into their own hands.

He had also hurled threats to then-Major General Bilal Akbar, who was serving as director general of the Pakistan Rangers, Sindh, at the time and was leading a security operation in the metropolitan city.

After Altaf's speech, charged MQM activists ransacked the offices of a private television station before clashing with police, leaving at least one person dead and over half a dozen injured.

After the rioting, the paramilitary Rangers detained at least nine senior leaders of the party: Farooq Sattar, Khawaja Izharul Hassan, Sajid Ahmed, Amir Khan, Dr Amir Liaquat Hussain, Waseem Ahmed, Qamar Mansoor, Kanwar Naveed and Shahid Pasha.




They thoroughly searched MQM headquarters Nine-Zero before sealing the premises. MQM offices in different parts of the city and elsewhere in the province were shut while dozens of workers were detained.

In the days that followed, the Karachi wing of the party led by Sattar distanced itself from Altaf and his London wing. Altaf's senior aides 'completely disowned' his remarks and disavowed the London-based decision-making body of the party.

Despite a split in the MQM, Altaf still wields considerable influence in the party.

Following the incendiary speech, the federal interior minister at the time had contacted British authorities and asked them to take action against Altaf for "inciting people of Pakistan to violence".

In 2017, Scotland Yard had sent a letter under 'Mutual Legal Assistance' to Pakistan in relation to two speeches by the MQM founder – the August 22 one and one on March 11, 2015.

The High Commissioner of Pakistan also lodged a formal request with the Metropolitan Police to investigate the matter.

Altaf has lived in self-imposed exile in London for more than two decades. He requested asylum in the 1990s and later gained UK citizenship. The Pakistani authorities have repeatedly demanded action be taken against him for inciting people in Pakistan to violence.


COMMENTS
Comments are moderated and generally will be posted if they are on-topic and not abusive.
For more information, please see our Comments FAQ